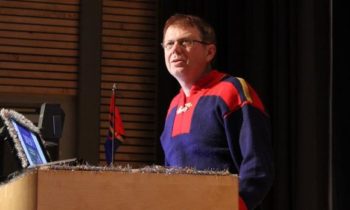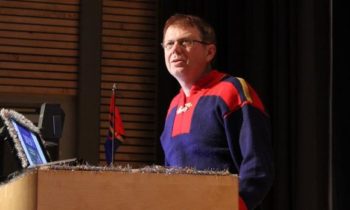 Torkel Rasmussen, a professor at the Sámi University College in Kautokeino, Norway says the Sámi Parliament of Finland, the representative body for indigenous Sámi in the country, has not worked hard enough to develop education laws that would require Sámi children to receive instruction entirely in their own language.
A few years ago, Torkel Rasmussen was one of several parents that lobbied to establish a private Sámi comprehensive school in Finland's northernmost municipality of Utsjoki.
Municipal leaders opposed the plan, however, and announced that they would themselves provide the Sámi instruction. Rasmussen isn't sure that things improved that much as a result.
"I don't quite agree that the city would have been able to do it, but they've certainly taken a step in the right direction," he said.
At present, instruction of Sámi children in Utsjoki takes place in a bilingual setting, alongside instruction for Finnish-language children. Finnish Sámi have had access to Sámi language instruction in some schools since the 1970s. Formal language rights were established in 1992.
There are three Sámi languages spoken in Finland: North Sámi, Skolt Sámi and Inari Sámi. The last of these, Inari Sámi is spoken by about 350 people, and is the only one of the three that is used entirely within the borders of Finland, mainly in the municipality of Inari.
Laws are needed
Rasmussen says the current law doesn't guarantee that instruction in the Sámi languages is available.
"The Sámi Parliament has not actually done enough to improve the situation of Sámi children. It has put together a revitalisation programme, but it refused to adapt anything that would have improved the education quality of Sámi-language children in the Sámi regions," he states.
He says he is nevertheless happy to hear that the body is now developing Sámi language instruction in Inari schools. Rasmussen says clear laws are needed to regulate instruction development.
"Change the law to read that children's instruction should be made available entirely in the Sami language, for example. Or that instruction will be arranged in Sámi-language schools."
An embarrassment for Finland
In a 2015 paper he presented on the subject, Rasmussen had this to say:
"The school system fails in developing high-level bilingualism among the mother tongue speakers of Sámi because most of them end up more fluent in Finnish than Sámi, and the non-Sámi speakers do not become functionally bilingual. This must be viewed as a defeat for the Finnish schools, and I would also label it as an embarrassment, given that Finnish schools are widely considered to be among the best in the world. Nonetheless, in this instance, the school system ends up as an obstacle, rather than a support, in the revitalization process of Sámi languages."
Sámi Parliament rep agrees
The education secretary of Finland's Sámi Parliament, Ulla Aikio-Puoskari, agrees with Rasmussen.
"Torkel Rasmussen's idea is very good. It would be the best solution to offer exclusively Sámi-language instruction for Sámi children. All growing Sami would without a doubt receive a much strong linguistic and cultural foundation this way than they do in the current schools," she said.
She says the Parliament proposed the idea of using Sámi as the primary language of instruction to the revitalisation programme's working group, but the group was unwilling to suggest any changes to the law. Any requirements to provide the entire curriculum in Sámi would be difficult to implement in the cases of the lesser-spoken Sámi language variants of Skolt Sámi and Inari Sámi.
"You have to remember that Inari Sámi was only introduced as a university subject in the 2000s, and Skolt Sámi in 2015. Things have improved quite a bit, though, in terms of finding Inari Sámi teachers, as we have had the help of adult education institutions and university instruction," says the education secretary.
Aikio-Puoskari also points out that the Sámi community is very diverse, with a wide range of opinions on how Sámi instruction should be organised. She is of the opinion that the Sámi Parliament of Finland does its best to preserve the endangered Sámi languages and Sámi-language instruction.
Sources Yle