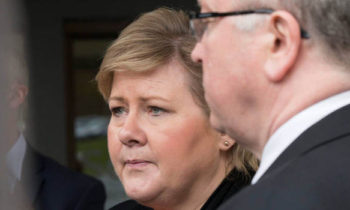 Prime Minister Erna Solberg's mother, Inger Wenche Solberg, died on Monday when she was 90 years old. It mentioned by the prime minister on her Facebook page.
– In life there are some days that a part of your life is over. Last night my mother, Inger Wenche, passed away. She was 90 years old in January and has lived a long life. She was always generous, positive and optimistic even though the last five months were painful because of illness, written Solberg.
– She created a caring home for children and grandchildren which was safe for all of us. We grieve, but have warm and good memories, she mentioned.
– A big thank you to all the staff at Konows nursing home that has given fantastic nursing care since she arrived there in April, said the Prime Minister.