A Norwegian tourist arrested in connection with email and Twitter threats against Portland police admitted that he was responsible for the threats, according to documents filed in U.S. District Court in Portland.
Espen Brungodt, 28, was arrested Wednesday afternoon in the lobby of the Residence Inn on Fore Street, where he was staying with his parents.
Court documents said that as FBI agents and Portland police arrested Brungodt, he was asked whether there were any immediate threats, and Brungodt replied: "No, it had the desired effect."
Brungodt is being held without bail at the Cumberland County Jail. He is due in federal court at 2 p.m.
Court documents said Deputy Chief Vernon Malloch and other members of the Portland Police Department received emails from someone using the email address [email protected]
The email said: "Time for more police to die. We are getting our Sig Sauer MCX .223-caliber rifles ready, and very soon, my partners will head down to Portland Police Department on 109 Middle St. There they will shoot and kill as many police officers as they can. Meanwhile, I will get into position at the top of the Cumberland County parking garage on 188 Newbury St. I have booby-trapped the garage with explosives, so don't go there. Time to take action. More dead cops."
Besides the email, Portland police also received a private message on their Facebook page with the same statements.
The Portland Press Herald received the same emails.
The email threatened to shoot and kill as many police officers as possible from a parking garage.
Police learned of the threat at 8:45 a.m. Wednesday.
The threat specifically mentioned Portland police headquarters on Middle Street and the Cumberland County parking garage on Newbury Street, which is behind the department.
Similar threats against the police department were also posted on Twitter.
One of the tweets said, "We are going to shoot police officers."
The account was quickly deactivated.
Court documents said Brungodt arrived in Boston with his parents on July 26 and checked into the Residence Inn on Tuesday. The family was supposed to check out of the hotel Thursday.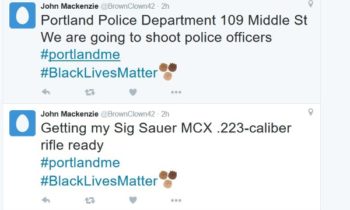 The threat indicated a person had set up explosives in the garage and there would be a shooter on the roof.
By 10:30 a.m., a large police presence surrounded the area. Despite that, it was business as usual, with pedestrians coming and going, wondering what was happening.
Police Chief Michael Sauschuck said at a news conference shortly before noon that no explosives were found in the parking garage.
"That location was cleared with explosive-detecting K-9s this morning right after that threat was received, and we did not find anything at that time," Sauschuck said.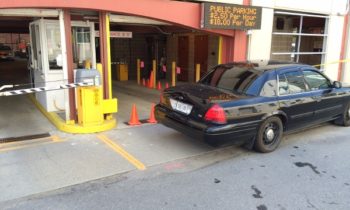 Shortly after noon, Cumberland County officials evacuated the nearby courthouse and garage as officers continued to watch from above.
The Press Herald reported at 1:30 p.m. that more emails had come in saying the person was daring police to arrest him at a local hotel.
The arrest happened shortly afterward, with police saying the threat was neutralized.
Brungodt entered the United States through Boston on July 26. He was traveling with family members. There is no indication they were aware of his actions, police said.
Brungodt was not armed and offered no resistance when taken into custody.
Police said they believe he acted alone.
Brungodt is charged with making threatening interstate communications. If convicted, Brundgodt faces up to five years in prison and a $250,000 fine.
(wcvb)