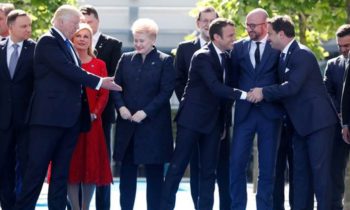 Some 200 troops and 60 combat vehicles from Norway arrived in Lithuania Tuesday, completing a multinational NATO unit of more than 1,000 soldiers in the Baltic nation neighboring Russia. Defense Minister Raimundas Karoblis says the Norwegian soldiers added to a deployment that "signals that an attack on one NATO member is an attack on all."
At last year's NATO summit in Warsaw, Poland, the 28-member alliance decided to deploy forces in the countries bordering Russia and Belarus. The Baltic countries and Poland fear that after Russia's military involvement in Georgia and Ukraine, other former Soviet republics could be next.
The Norwegians joined German, Belgian and Dutch troops and armored vehicles in NATO's enhanced Forward Presence Battalion Battlegroup. The deployment is NATO's most significant presence close to the Kaliningrad exclave, the Russian territory wedged between Poland and Lithuania that is the most militarized zone in Europe.
 Similar NATO units led by Britain, Canada and the United States also have deployed in parts of Poland, Latvia and Estonia.
(indianexpress)