President Vladimir Putin on Tuesday put forward an ambitious program to secure Russia's foothold in the Arctic, including efforts to build new ports and other infrastructure facilities and expand an icebreaker fleet.
Speaking at the Arctic forum in St. Petersburg attended by leaders of Finland, Iceland, Norway and Sweden, Putin said that Russia plans to dramatically increase cargo shipments across the Arctic sea route.

He said that the amount of cargo carried across the shipping lane is set to increase from 20 million metric tons last year to 80 million tons in 2025.
"This is a realistic, well-calculated and concrete task," Putin said. "We need to make the Northern sea route safe and commercially feasible."
He noted that Russia, the only nation with a nuclear icebreaker fleet, is moving to expand it.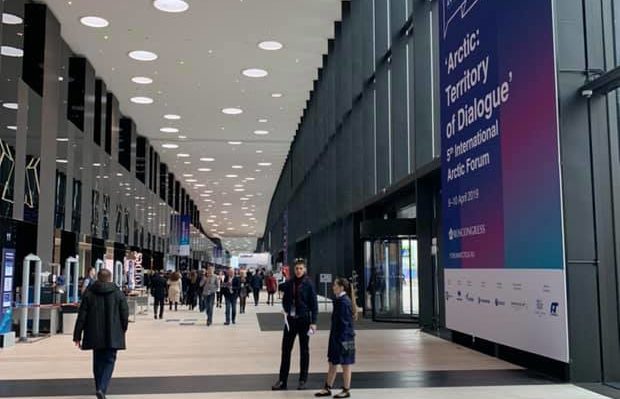 Speaking at the forum, Norwegian Prime Minister Erna Solberg emphasized the need to respect international law and noted that the Arctic Council provides a key arena for dialogue.
"Now and then I hear the Arctic described as a geopolitical hotspot," she said. "This is not how we see it. We know the Arctic as a region of peace and stability."
She noted that "this should not be taken for granted," adding that "it is the result of political decisions and practical cooperation between the Arctic states."
"Respect for international law and regional cooperation are keys to ensuring peace and stability across borders," Solberg said.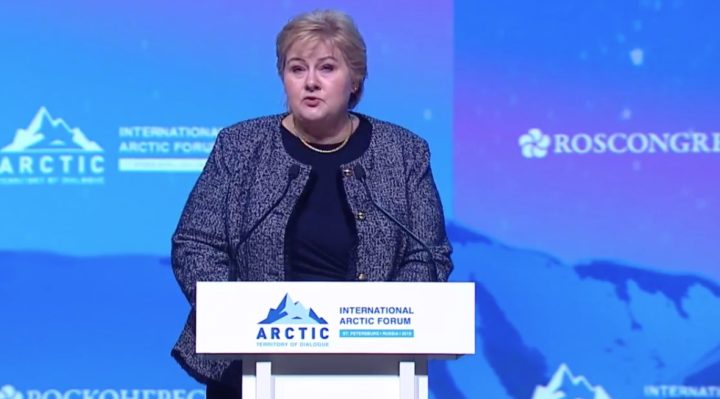 Solberg and other leaders who spoke at the forum underlined the need for all countries in the Arctic region to focus on areas of mutual interest despite differences.
"We ensure the necessary defense capability in view of the military-political situation near our borders," Lavrov said, noting that a recent NATO exercise in Norway was openly directed against Russia.
Finnish President Sauli Niinisto emphasized the need to search for common ground despite Russia-West tensions.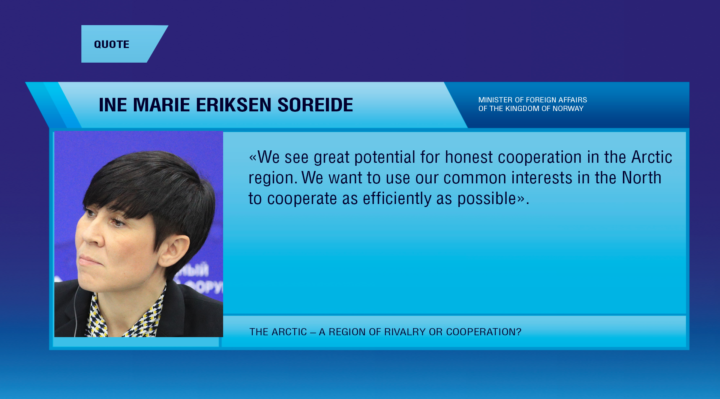 "In spite of what has taken place in Ukraine, we still actually from the Urals to Atlantic, we are Europe, and Europe is the neighbor of Russia," he said. "So usually it is wise to stay in as good relations with your neighbor as possible."
Putin said that Russia has fulfilled its obligations under an international agreement aiming to limit global warming by cutting emissions of greenhouse gases, noting that the U.S. has opted out of the pact.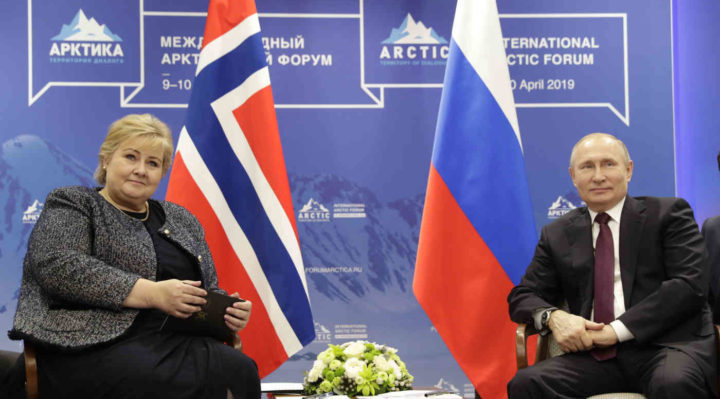 Norway's opposition Labor Party, the biggest party in parliament, decided to drop its support for exploration in Arctic waters surrounding the Lofoten archipelago.
The party, which will vie for government in Norway's 2021 elections, said it no longer backs an environmental impact assessment of drilling in the far north Lofoten, Vesteralen and Senja islands, acknowledging that there has been a shift in support for the policy within the party.
The move came as a major blow to Norway's oil industry, which has seen access to Lofoten as a holy grail, unlocking some 3.4 billion barrels of oil equivalent of potential in place oil and gas.
The association representing Norway's oil and natural gas industry, which has harbored hopes of a government more supportive of new exploration, expressed disappointment at the decision.
"The whole industry is surprised and disappointed that the Labor Party is changing a parliamentary election program in the middle of the period," said Karl Eirik Schjott-Pedersen, head of Norwegian Oil and Gas. "It does not provide the predictability we depend on."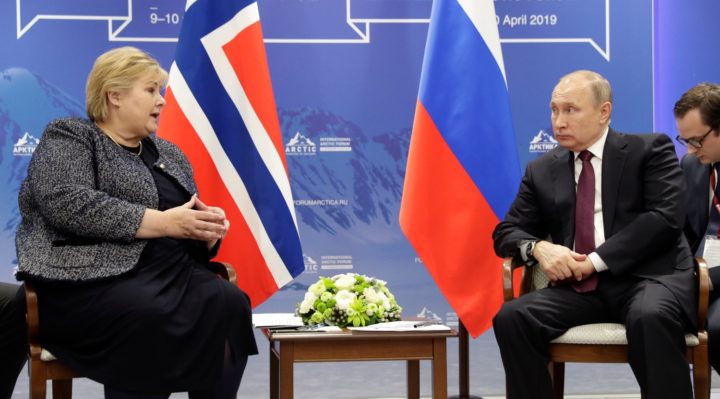 Speech at the plenary session of 5th International Arctic Forum

President of Russia Vladimir Putin: Mr Niinistö, Mr Jóhannesson, Ms Solberg, Mr Löfven, ladies and gentlemen, friends,

I am happy to welcome you to St Petersburg, the northern capital of Russia whose history is closely connected with legendary Arctic expeditions, industrial exploration of this unique region and preservation of its nature and unique culture.

This is the fifth time that International Arctic Forum The Arctic: Territory of Dialogue becomes a platform for an open discussion of the Arctic agenda. We thank our foreign guests and representatives of the Arctic Council countries for their readiness to team up and their understanding of our shared responsibility for the future of the Arctic and its stable and sustainable development.

In 2021, Russia will assume presidency of the Arctic Council. We invite all participants of the Council and other states to cooperate in the Arctic. The priorities of our presidency are vital for the Arctic development: promotion of sustainable technologies in all areas, including industry, transport and energy.

Today we are carrying out our projects in the Arctic, including global ones, based on the latest environmental standards. It is enough to mention the Yamal LNG project and the development of the Bovanenkovskoye and Kharasaveyskoye gas fields. Today, the Arctic accounts for over 10 percent of all investment in the Russian Federation. I am convinced that the importance of the Arctic factor in the Russian economy will only grow further.

This year we are going to draft and adopt a new strategy for the development of the Russian Arctic up to 2035. It is to combine measures stipulated in our national projects and state programmes, the investment plans of infrastructure companies and programmes for developing Arctic regions and cities.

All Arctic regions should be brought to the level of at least the national average in key socioeconomic indicators and living standards. I would like to emphasise that this task should not only be clearly defined in the new strategy of Arctic development but should also serve as a guide for the work of all federal departments and regional authorities of Russia. It is absolutely necessary to take into account the specific nature of the problems facing the indigenous minorities of the North.

Special attention should be paid to the development of transport and other support infrastructure. We are well aware that this is a necessary foundation for future investment and business initiatives. The construction of theNorthern Latitudinal Railway is a key infrastructure project. This railway will make it possible to start effective development of the natural riches of the Polar Urals and Yamal, and in the long-term, the north of Krasnoyarsk Territory of the Russian Federation. And we will certainly continue developing the global transport corridor that includes the Northern Sea Route and which will be functioning without fail year round.

Our goal to significantly boost the freight traffic and bring it up to 80 million tonnes by 2025 on the Northern Sea Route alone was outlined in the 2018 Address to the Federal Assembly. Just 10 to 15 years ago, this figure looked absolutely out of reach, whereas today it is a realistic, carefully calculated and concrete goal. As of last year, the volume of traffic on the Northern Sea Route already reached 20 million tonnes. This is three times – I reiterate – three times more than the Soviet record set in 1987, when the Soviet Union transported 6.5 million tonnes using this route. Now, it is 20 million tonnes.
In order for this global transport corridor to operate at full capacity, we will develop the communication and coastal infrastructure, including port facilities, navigation, and meteorological aids, and ensure safe commercial navigation.

We encourage our foreign partners to join us in our efforts to create hub ports at the end points of the route. I mean the Murmansk transport hub and port infrastructure in Petropavlovsk-Kamchatsky. In addition, we plan to upgrade the Arctic coast harbours, including the river-sea traffic capabilities.

We will continue to update our icebreaker fleet and to increase the production of ice-class vessels. Three new nuclear-powered icebreakers, namely, the Arktika, the Sibir and the Ural, are being built here in St Petersburg, where we are now. By 2035, Russia's Arctic fleet will operate at least 13 heavy-duty linear icebreakers, including nine nuclear icebreakers.

To reiterate, our goal is to make the Northern Sea Route safe and lucrative for shippers, and appealing both in terms of the quality of services and price. In particular, the icebreaker escort fee must be competitive and reasonable. The state invests in this operation in order to minimise the tariff burden on carriers and other businesses.

Friends, we intend to use all of our investment support tools, including those that we have used successfully under programmes for the development of Russia's Far Eastern regions, to launch new projects. These will include lower profit tax rates, reduced severance tax coefficients for mineral extraction, a notifying procedure for VAT refunds and a simplified procedure for providing land plots and invariable terms for implementing investment projects.

At the same time, with due consideration for the Arctic's peculiarities, investors should and will receive more advanced and more stable preferences here.

I would now like to address our colleagues. The Government of Russia, as well as experts and the business community, have been instructed to draft a federal law on a special system of preferences for the Arctic zone's investors. And I am asking you to do this quickly so Russia's State Duma can pass the law during its fall session.

I would like to draw your attention to one more point. As you may know, the powers of the Ministry for the Development of Russia's Far East have been expanded; now, the Arctic is also within its authority and is part of its responsibility. In this connection, it is logical to expand the work of Far Eastern development institutions to the Arctic as well. If necessary, we will expand the capitalisation of the Far East Development Fund for selective financing of Arctic projects.

Furthermore, we need a powerful research, HR and technological foundation for the region's comprehensive development and for accomplishing unique and unconventional tasks in the high latitudes. We have begun establishing science and education centres in various Russian regions; they integrate the capabilities of universities, research institutes, the business community and the real economy. One of our Arctic regions will certainly receive such a centre that will ensure the development of fundamental research and will help address the applied and practical tasks of developing the Arctic.

We believe that the future belongs to active academic and university exchanges, international research teams and alliances of high-tech companies. We invite all our colleagues to take part in joint projects in shipbuilding, navigation safety, environmental protection, minerals production and bioresources harvesting.

The Arctic offers us immense challenges. And we can only respond effectively if we do it together. One such challenge, as I have told you, is to maintain balance between economic development and preservation of the Arctic environment, conservation of its unique and fragile ecosystems, and, of course, clean-up of the environmental damage accumulated through the economic activity in the past decades, which was extensive from time to time. We have been conducting a major clean-up of Arctic areas for a number of years. Starting in 2012, we have removed and utilised over 80,000 metric tonnes of waste.

In the coming years we will liquidate six major environmental damage sites in Arkhangelsk and Murmansk regions, in the Nenets Autonomous Area, Karelia and Yakutia as part of the Clean Country federal project. We are also to clean up over 200 square kilometres in the Kola Bay area.

We will also develop a system of specially protected natural territories and reserves. Above all, I mean the Russian Arctic national park. It is important to take additional measures to develop civilised ecotourism and build the required infrastructure there.

To conclude, I would like to thank all the participants and guests of our forum. I am certain that our constructive dialogue will help strengthen neighbourly relations and trust in the Arctic region, which means the peaceful and sustainable development of the Arctic.

Thank you.