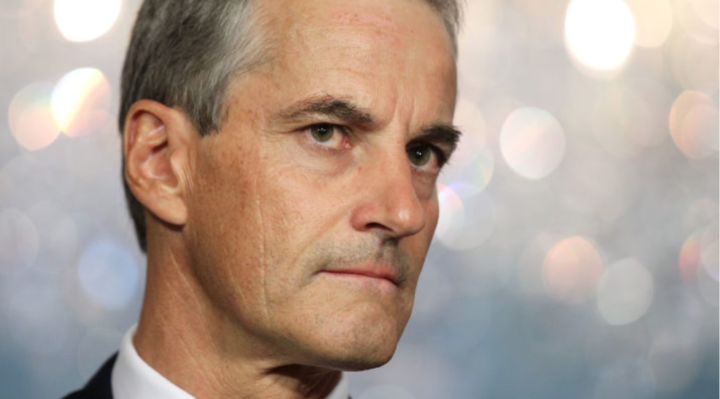 Norwegian Labor Party leader Jonas Gahr Støre reached out to voters with a brutally honest pledge — he's going to raise their taxes if elected prime minister next week.
A year ago, Norway's general election on September 11 looked like a certain victory for Støre's Labor-led center-left bloc over Conservative Prime Minister Erna Solberg's center-right coalition government. Now they are neck-and-neck in the polls.
Solberg's Conservative Party has attacked Labor's platform by suggesting the party will raise taxes by more than it says if it gets into power, or will be forced to do so by its leftist allies in a governing coalition. But the Norwegian left says there is no option but to raise taxes because of the way the Conservatives have been spending money and giving tax breaks to the rich.
"Do you know how much money they have spent? It's a piñata," said Bjørn Jacobsen, who is running for parliament for the Socialist Left Party (SV) in the county of Møre og Romsdal. His party is a likely junior coalition partner if Labor gets into power.
Jacobsen shares the widespread feeling in Norway that it will be a very close contest on Monday, though he expects the outcome to be a coalition of Labor, the rural Center Party and the Socialist Left.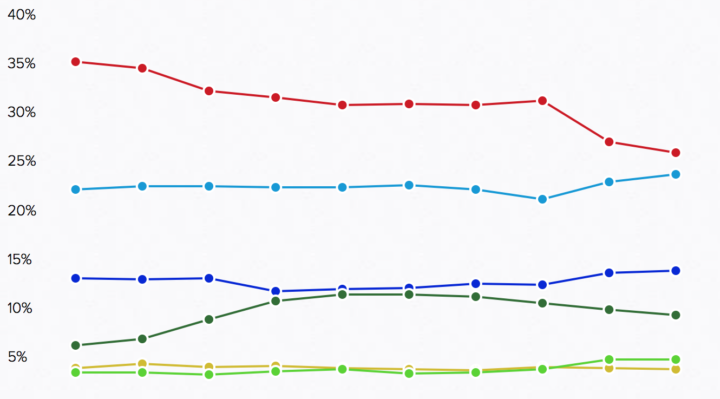 Bernt Aardal, a political scientist at the University of Oslo, predicts it will be "very close, both in terms of the election result and what is going to happen with the government afterwards." The uncertainty stems partly from weak support for many smaller parties, some of which could fail to reach the 4 percent election threshold, and from shifts in strength between parties in opposing blocs.
Though it's a safe bet that either Støre or Solberg will be prime minster, the daily Aftenposten recently listed 10 different possible government coalition constellations. A weak result for Labor could force Støre to rely heavily on the small Green and/or Red parties for support, which could make governing difficult and hand the tiny parties considerable power.
Welfare costs money
Egalitarian Norway already has steeply progressive income-tax rates, with a top marginal rate of 46.7 percent, and a total tax burden of around 45 percent, which is above the OECD average.
"Tax is not so important as what we shall do with it — we want to have as low taxes as possible, but as high as necessary," Støre said in an interview on national broadcaster NRK, reconfirming his pledge to raise the total tax take by up to 15 billion Norwegian kroner ($1.93 billion).
He said Norway needs that money to invest in teachers, to deal with an aging population and to boost job training.
"We kept our tax promise in 2005, 2009, 2013, and we will keep it in 2017," Støre said.
Though voters are showing signs of fatigue with Solberg's minority coalition of her Conservatives and the populist Progress Party, the disillusionment does not seem as rampant as when voters in 2013 ousted the previous Labor-led coalition, which had governed for eight years under Støre's predecessor, Jens Stoltenberg.
Stoltenberg's approach, when he won power in 2005 for a second time, had been to tell the people not to expect tax cuts; Støre has gone one better and chosen to campaign on a promise to raise taxes.
For the social democratic Labor Party, which is the biggest party with 55 seats in the 169-seat parliament, that means rolling back tax cuts granted by the Solberg government to high earners and the rich. But in a country where income differences are smaller than in many others, the planned tax increases would not affect only the super-rich, but also people earning a high, though not extravagant, annual income of more than 600,000 Norwegian kroner ($77,120).
So, it's a "soak the rich" strategy that would affect Norwegians who likely think of themselves as unmistakably middle-class — and unwilling to hand over more to the taxman.
The tabloid VG in July launched on its website a "Jonas Tax calculator" (named after Støre), where readers can plug in their financial details to find out if or by how much Støre's tax-hike pledge will affect them.
Truls Wickholm, a Labor lawmaker from Oslo who sits on the parliament's finance and economic committee, said the party felt "the need to be upfront with voters about what welfare is actually going to cost."
(politico)