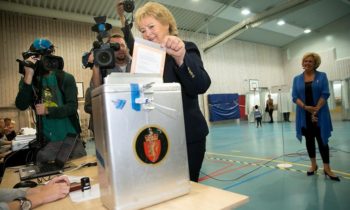 Norway's Conservative candidate for prime minister is so certain she'll win Monday's election, she already ordered a victory cake, Norwegian daily VG reported. A press conference for candidate Erna Solberg was scheduled for the party Tuesday at which time the cake would be served, the newspaper said. "I am quite sure that there will be a right-wing majority and a right-wing government," Solberg told Aftenposten. A VG poll carried out Friday showed the Labor party had overtaken the Conservative party with 28.6 percent of votes to 27.5 percent.
"I do not think we will get in the 30s. I don't think any of the parties will," Solberg said to Dagbladet newspaper.
Solberg urged Prime Minister Jens Stoltenberg to announce his recognition as soon as it was certain the right-wing parties had a clear majority, TheLocal.No reported Monday.
"With Labor one can never take anything for granted," she said. "I expect that they will attempt some ruse to cling on to power."