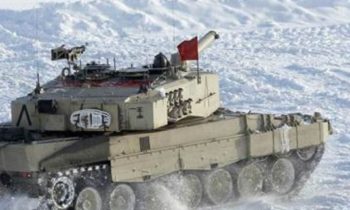 As Russia strengthens its naval, air and ground forces in its northern territories, Norway has responded by scaling-up manpower, equipment and Arctic combat units as part of a broader reinforcement of its High North defenses. Norway's program, part of the Norwegian Defense Forces' (NDF) Smart Defense strategy, comprises a strong Arctic-focused dimension in funding and resource allocation.The Smart Defense approach to High North military reinforcement has, since 2010, placed higher priority on Arctic-class specialized equipment procurement coupled with more intensive training for High North-deployed units. The goal is to produce combat-ready modular units that can fight independently or alongside NATO forces.
The NDF's August 2009 decision to relocate the Army's headquarters functions to the Arctic town of Bodø — 1,700 kilometers north of Oslo — bolstered Norway's commitment to establishing an integrated High North defense system. That decision led to the establishment of the Joint Operational Command Headquarters (JOCH).
This new approach is centered around more compact units equipped with the best available Arctic fighting equipment and capable of delivering greater firepower.
The JOCH is overseeing the evolution of Norway's High North defenses into a centralized command and coordinated fighting structure that will be able to call upon an Air Force equipped with F-35s, forward Army battalions deploying CV90 tracked armored fighting vehicles and high mobility Archer artillery units, and a stronger Navy operating anti-aircraft and submarine-hunting Arctic-class Fridtjof Nansen frigates and Skjold corvettes.
The scaling-up of Norway's defense capabilities in the High North is happening while the military intelligence services are urging the government to adopt a more cautious posture toward Russia's increasing militarization in the region.
Although the Norwegian Intelligence Service (NIS) believes Norway is under no "short- to medium-term threat" from Russia, its latest open threat evaluation assessment, FOKUS-2015, advocates vigilance.
"Threat is a combination of two factors; capacity and intention," NIS chief Lt. Gen. Kjell Grandhagen said. "Although capacity is increasing, it is difficult for the time being to see a rational reason for Russian military activity against Norway in a short- to medium-term perspective. But intentions can change over time, and it is therefore now increasingly important for Norway to follow Russia's long-term political, economic and military development."
The NIS' intel-gathering capacity will be enhanced once its new advanced signals intelligence ship, the Marjata 11, enters service in the High North and Barents Sea in 2016.
Under the Smart Defense program, Ørland, located on the mid-Norway coast, and Evenes, above Norway's Arctic Circle, will become the main operating bases for F-35 aircraft and, during more regular joint exercises, NATO aircraft and forces. Evenes also will house a Quick Reaction Alert squadron.
Ørland, Evenes and the NDF's core High North battalions will also be equipped with an updated Norwegian advanced surface-to-air missile system, which is being deployed primarily to protect key military installations, warfare units and infrastructure against air-to-surface attacks.
The system uses active missiles and different types of sensors, boosting firepower for the NDF's Smart Defense and High North strengthening program.
Archer, the next-generation self-propelled artillery system developed as a joint project with Sweden, also increases firepower. Norway plans to deploy 24 Archer systems complete with fully automated 155 mm/L52 howitzer guns and M151 Protector remote-controlled weapon stations. These are mounted on modified Volvo A30 six-wheel-drive chassis all-terrain articulated haulers.
The Arctic-class Archer's operational strike-and-run capacity makes it ideal in the hilly and forested terrains of the High North. Moreover, Archer can fire Nexter Bonus and Raytheon/Bofors XM982 Excalibur guided rounds over respective distances of 34 kilometers and 60 kilometers.
The NDF also is establishing a specialized Arctic-trained "professional" rapid reaction force north (RRFN), set to become fully operational in 2017. The RRFN unit's core will comprise an existing armored battalion and a motorized infantry battalion equipped with CV90 infantry fighting vehicles and Leopard 2 tanks
Norway's ability to defend its High North territories also received a boost from the Defense Ministry's US $1.6 billion program to re-equip its core forward armored brigade units with CV90 tracked infantry fighting vehicles, part of the NDF's biggest fighting vehicle modernization project investment.
The vehicle fleet upgrade, with delivery scheduled from BAE Systems in 2015-17, will include 74 modernized and armor-strengthened infantry fighting vehicles, 21 reconnaissance, 16 multirole (mortar carrier or cargo), 15 command and control, 16 engineering, in addition to two driver training vehicle types.
The new and updated vehicles are expected to make the NDF's forward armored battalions in the High North more mobile with improved firepower. The infantry vehicles also will have better protection against armor-piercing weapons and rounds, including improvised explosive devices.
The infantry and reconnaissance vehicles will also be equipped with better sensor systems, surveillance and communication capabilities, and fitted with integrated technologies that will extend to dismounted infantry troops. Norwegian company Kongsberg's Protector remote weapon stations are to be fitted to all IFV variants.
The need to prioritize military readiness and defense capability in the High North helped drive Norway's decision to raise spending on defense above that of any of its Nordic neighbors, said defense analyst Thorvald Stoltenberg, a former Norwegian defense minister.
"Russia is rebuilding its naval and Air Force strength, as well as its Arctic fighting capability, in the High North," Stoltenberg said. "While this is understandable from a Russian perspective, its growing level of activity regionally is causing problems and concerns among all Nordic governments and militaries. This is unfortunate, as the emphasis should be on building more, not less, bilateral cooperation with Russia on defense and security in the Arctic."
Norway's defense budget will run to $8 billion in 2015.
(gannett-cdn)