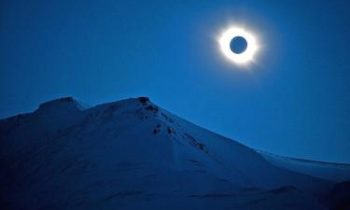 Sky-gazers in the Arctic were treated to a perfect view of a total solar eclipse yesterday as the moon completely blocked out the sun in a clear sky, casting a shadow over Norway's remote archipelago of Svalbard. People shouted, cheered and applauded as Longyearbyen, the main town in Svalbard, plunged into darkness. The skies were clear, offering a full view of the sun's corona — a faint ring of rays surrounding the moon — that is only visible during a total solar eclipse.Earlier, a blanket of clouds in the Faeroe Islands blocked thousands of people there from experiencing the full effect of the total eclipse.
The Faeroes and Svalbard were the only two places on land where the eclipse was total.
Despite the clouds in the Faeroes, tourists and residents in Torshavn alike hooted and applauded as the daylight dimmed for about two minutes and 45 seconds.
"It was a pretty big disappointment not to be able to see the sun," said Janaki Lund Jensen, who had sailed from Copenhagen with 884 others to see the eclipse.
Hotel rooms have been booked for years as thousands came to the Faeroe Islands to try to see the eclipse.
Sigrun Skalagard, in the northern parts of the Faeroes, said birds there went silent and dogs started howling.
"Some people were surprised to see how fast it became dark," she said.
A partial solar eclipse could be seen yesterday across Europe and parts of Asia and Africa.
Britain's Met Office said 95 percent of the sun was covered in the Hebrides, Orkneys and Shetland Islands, and 1 percent less further south in Glasgow and Edinburgh.
In Copenhagen, the sun was 85 percent covered up, while 80 percent was hidden in southern Sweden.
(AP)