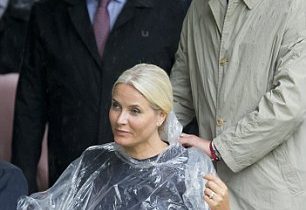 At the Crown Princess of Norway, she is normally a picture of poise and grace.
But Princess Mette-Marit found herself in a spot of bother today as she tried to get into a plastic rain poncho.
The 42-year-old was celebrating the Norweigan royal family's Silver Jubilee, a special event paying tribute King Harald and Queen Sonja's 25 years on the throne.
She joined her husband, Crown Prince Haakon for the special event in Kristiansand.
Earlier in the day, she looked flawless in a floral A-line skirt and a black cropped blazer with ruching detail. She wore her platinum blonde locks swept back into a low ponytail, adding a pair of black kitten heels.
Her husband, meanwhile, looked sharp in a navy suit. But the pair were forced to put function over fashion when the heavens opened, with Haakon donning an oversized rain mac.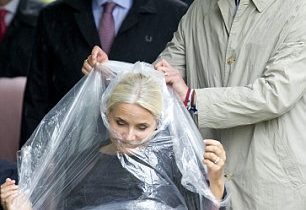 Mette-Marit wrapped up with a fleecy pink blanket, while her devoted husband attempted to pull the poncho over her head – with some difficulty.
Later on, the pair changed yet again as they boarded a speedboat to take them back to the Royal Yacht alongside Queen Sonja and King Harald.
Braving the blustery weather, Mette-Marit managed a broad grin as she clutched a bouquet of flowers and boarded the vessel. She had changed into a smart, monochrome jacket and pleated skirt.
The Queen, who turns 79 last week, seemed prepared for the weather with a waterproof red mac and a yellow rain hat.
Wednesday marked the final day of the Silver Jubilee tour, which has seen the King and Queen host a garden party in six different cities.
It kicked off on 18 June with a visit to Tromsø, the most northerly port of call on their voyage, where Harald welcomed 300 guests to the party at the historic Skansen fortress.
During a speech, he reflected on his quarter-century reign, according to the Royal House of Norway's website.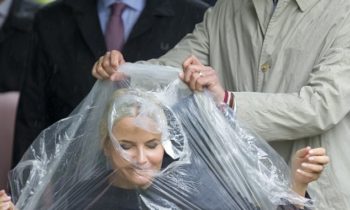 'Norway is 25 years older,' he said. 'Norwegian society is not the same as it was in 1991. We face different challenges, have different opportunities.
'We have experienced good times and bad times – more than once. But throughout it all we have held on to certain values that are an inextricable part of our culture, our local communities, and our hearts.'
Next, the Royal Yacht dropped them off at the city of Bodø, where Queen Sonja she officially opened the new Keiserstien Trail, which leads to the top of Veten mountain.
After that, they docked in Trondheim where they were joined by Haakon and Mette-Marit, before continuing down the coast to Bergen on June 25 and Stavanger on June 27.
They came to their final destination, Kristiansland, on Wednesday.
(dailymail)