Organizers amid the coronavirus pandemic downsized NATO-led Noble Partner military exercises in the country of Georgia to five participating nations from 26 envisaged originally, Deputy Chief of the Georgian Defense Forces Irakli Tchitchinadze told reporters on Tuesday.
"Originally we had 26 different nations from NATO and NATO partners, but… because of COVID it was impossible for everyone to participate here this time," he said during a phone briefing.
Approximately 2,800 military members from France, Georgia, Poland, the United Kingdom, and the United States, are participating in the exercise that kicked off on September 7 and will include on September 18.
Joe Jarrard, US Army Europe Deputy Commanding General for the Army National Guard, mentioned Ukraine among the countries which were invited, but couldn't make it to Georgia.
"Ukraine was invited to participate in exercise but… Ukraine along with several other countries was not able to participate due to the mitigation measures," he said.
Armor, artillery, paratrooper, engineering and other units train at Vaziani and Camp Norio areas in Georgia to increase their "readiness and interoperability," Tchitchinadze said. They all operate in a coronavirus-proof "bubble" at the training range and so far there has been no cases of contamination during the exercise, he added.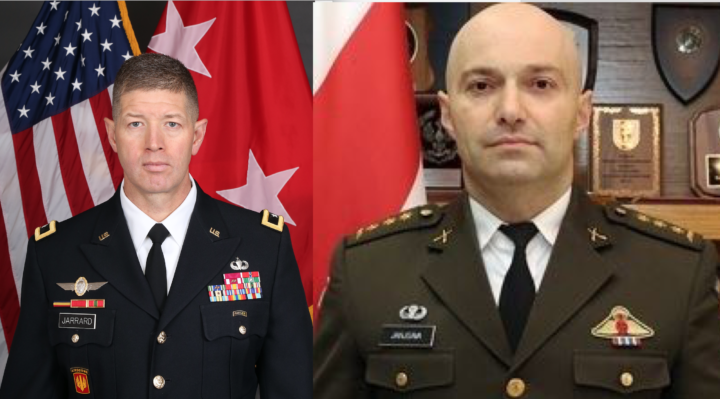 Below is a full rush transcript of the press conference by Maj. Gen.  Joe Jarrard Deputy Commanding General for Army National Guard, U.S. Army Europe And Brig. Gen. Irakli Tchitchinadze Deputy Chief, Georgian Defence Forces.
Maj. Gen. Jarrard: I'm very pleased to join you today to speak about Noble Partner, and I'm also especially glad to join Gen. Tchitchinadze from Georgia. U.S. Army Europe is honored and proud to work with our Georgian Defence Force partners to host this exercise, and I look forward to discussing it with you today.
Gen. Tchitchinadze: Thanks, it's my pleasure and great honor to speak about Noble Partner 2020. It's one of the very important events we are hosting now in Georgia, and especially my thanks and appreciation for Georgian Defence Forces and from Georgian Ministry of Defence to Gen. Jarrard and to our partners. Thank you again.
Question : Has the exercise scenario been reflected in the hybrid threats which Georgia and other countries like Ukraine are currently facing? Was Ukraine invited to participate? And if not, why not?
Maj. Gen. Jarrard: To the answer the second part of the question first, Ukraine was invited to participate in the exercise, but, as everyone understands, COVID is impacting a lot of the training and exercise that we're trying to conduct in this current environment. And so Ukraine, along with several other countries, were not able to participate due to the mitigation measures that were needed to take place to participate, and so they are not participating currently.
With respect to the first part of the question, the hybrid threats, we've got a numerous force structure participating in the exercise, so there are some artillery units, our Striker units from 2nd Cavalry Regiment, engineer units, along with special forces units. And so throughout the scenario there are different types of events that are taking place, and there are several hybrid threat scenarios involved in the process.
Brig. Gen. Tchitchinadze: Actually, we had invited 26 different nations from NATO partners – NATO members and partner countries, but again, as Gen. Jarrard mentioned, because of COVID it was impossible actually for everyone to participate here this time this year.
Regarding the first question about hybrid, if it's also involved from hybrid threats, I could say yes, definitely, because these exercises also are focusing to improve synchronization planning and improve SOF integration and interoperability as well as interdependence with conventional forces. So it means that we have conventional forces and where it's sort of [inaudible] exercised together. Plus, as you know already, we conduct joint force entry with airborne assaults at Vaziani Training Area. And so all these [inaudible] forces, they are combined arms and combined units, all together, and of course there is huge efforts regarding hybrid assessment.
Brig. Gen. Tchitchinadze: I'd like to mention United States, United Kingdom, Poland, and France. So we have about 2,800 personnel totally with Georgian Defence Forces, of course, participating this year.
Question : Gen. Jarrard, what were sort of – what are some of the principal capabilities that you will be exercising during the course of this joint exercise?
Maj. Gen. Jarrard: I'll quickly read some of the exercise objectives and then talk about some of the types of units that are participating. So some of the exercise objectives involve conducting a joint forcible entry with airborne assault. And as my partner just mentioned, build multinational regional combined and joint partnership capacity; exercise coordination and integration capability in a multinational environment; improve interoperability at the tactical level between allies and partner nations; improve synchronization planning for enablers to increase effective fire-and-maneuver units; improve SOF integration and interoperability; and exercise and improve multinational command and control capabilities at the tactical level. So those are some of the overarching training objectives that are – that we have.
But then we have the Georgian National Guard is participating with a firing – a field artillery battery, and so they're getting after some of their training objectives such as processing fire missions and synchronizing fire support operations and things like that.
The engineer unit from the Georgian National Guard is doing – is conducting – providing support for mobility and breaching operations. And then you've got the 2nd Cavalry Regiment that is also doing – they're doing some live firing and also working with the partners there throughout the exercise. So underneath those overarching exercise objectives, the individual units are not only working with their partners, but also working on their readiness objectives with respect to the normal soldier tasks that they need to accomplish if they are ever called to fight.
Question : Gen. Tchitchinadze, what are some of the Georgian military's goals for this exercise?
Brig. Gen. Tchitchinadze: So the main goal for us is to increase our readiness and, of course, interoperability with, of course, first of all, the United States and NATO members. And the key point, again, this is building our interoperability with NATO and allied countries. Also, to build the trust between the participants and that we really highly appreciate participating from our NATO partners in this exercise. So I think this is the main one.
Question: What you're describing, was originally going to be done for the large exercise of the Europe 20 exercises? Is this part of that or originally part of that or is this something completely separate?
Maj. Gen. Jarrard: I will say that the joint forcible entry portion of this exercise was planned as part of the original DEFENDER 20 Exercise, but DEFENDER 20 was a series, really an umbrella over a series of exercises. And so Noble Partner takes place every other year in even-numbered years, and so it was not necessarily linked to DEFENDER. But the first part of this exercise, the joint forcible entry, was included in DEFENDER 20 but had to get pushed to the right due to the COVID impact.
Brig. Gen. Tchitchinadze: Actually, a little bit just regarding Noble Partner, you know, we are already doing this the fifth time in Georgia because we started from 2015 actually. And every year, as it was mentioned by Gen. Jarrard, that we do this exercise – this year in Tbilisi, near from Tbilisi. Just last year, in 2019, we did not because we had another multinational exercise, so conducted with United States and with our partners named as Agile Spirit 2019. And so this year again, as you all know, we do this Noble Partner 2020.
Maj. Gen. Jarrard: Well, the first thing I'd like to highlight is the fact that although COVID impacts the things that we're doing now, we are – we take the safety of our soldiers and those participating in exercises very seriously. And so – and what we have determined is that we have to continue to train. And so I think this exercise is a great example that we still will maintain our training exercises, and we will do those with multinational partners and allies, and that we have figured out how to do that safely.
And so all of the soldiers that are participating in this exercise are within a bubble at the training range. No one enters that bubble other than those that are participating. And we have mitigation measures in place and the ability to test individuals throughout the exercise to make sure that the bubble is staying clean. And if somebody does experience symptoms, then we will move them out of the bubble and take care of that – them medically. So I just want to highlight that we are working in a new way within this COVID environment, but we have figured out how to do it safely, and we will continue to do exercises like this with our allies and partners.
And so, as Gen. Tchitchinadze mentioned a minute ago, I appreciate him mentioning the word "trust" because we talk about interoperability and a lot of people think that that is through our communication devices and radios and so forth. And while that is important and may be the hardest part of interoperability, it does involve person-to-person interaction. And that's – through these type of exercises, we're developing that trust with our partners and allies that enables us to understand each other's culture so that we can train and fight together if necessary.
Brig. Gen. Tchitchinadze: On behalf of Georgian Defence Forces and Georgian Ministry of Defense, I one more time would like to stress on the importance of this multinational exercise that we are hosting now in Georgia, and especially to send to our partners participating in these exercises this year and especially to United States, one of the most important strategic partners which actively support Georgia's sovereignty, territorial integrity, and democratic development, and strengthening our self-defense capabilities, of course.
Regarding Noble Partner, this exercise fosters regional stability and security, strengthening readiness and defense capabilities, as it was mentioned. And of course, it facilitates stability and peace in the region. And that's why we are very, very appreciative and very happy conducting Noble Partner almost every year.
Regarding COVID, as it was mentioned by Gen. Jarrard, there was a lot of regulations, very strict regulations, being set up by us and our partners to prevent this disease, especially during these exercises. And right now, till now actually we are doing well because we have no single cases, and this makes us even more happy.
So once again, thank you very much for giving us this opportunity to speak a bit about our important events that we are doing here in Georgia. And again, my deepest appreciation to you, to the organizators and to all our journalists. And Mr. General, we are looking forward to see you here soon in Georgia.