The biggest navy exercise in Europe this year has been launched in the Baltic Sea as Nato demonstrates it remains a fighting force despite the coronavirus pandemic.
Nato leaders at the highest level have agreed to assembling the 19-nation armada during the outbreak.
Vice Admiral Lisa Franchetti, commander of the US 6th Fleet leading the exercise, said Nato was ready to respond to threats. "We will work together to deter any type of malign activity and be ready to defend," she told a telephone press conference. "As operations continue we look to the various navies to continue to develop their readiness to respond to any threats that they face at sea."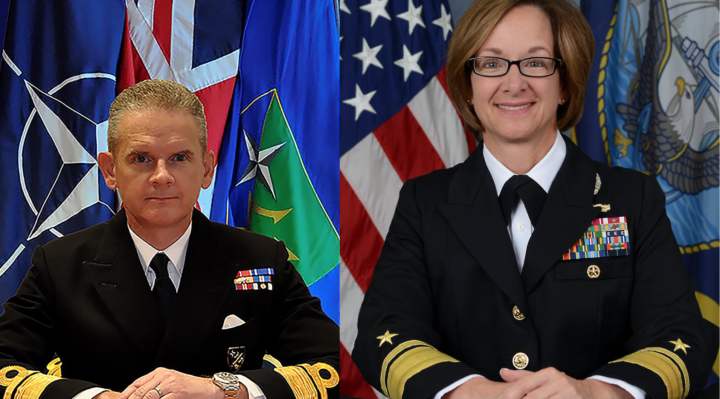 In past years Russian warships, including submarines, have shadowed the force along with aircraft flying low near warships in a dangerous manoeuvre known as 'buzzing'.
"Our expectation is that all mariners operate in a safe and professional manner that does not endanger our crews or themselves," the Ms Franchetti said. "That's what we expect to see from the Russian Navy and Air Force. We expect them to do this safely."
For the first time the exercise, called 'Baltops', will be conducted entirely at sea with amphibious landing cancelled because of the virus outbreak. Each ship has been decontaminated and its crew tested for the Covid-19 before setting out. To prevent infection there will be no exchange of personnel between ships during the 10-day deployment.
Participating nations include France, Germany, Italy, Turkey, Britain and the US with 28 ships and 3,000 personnel.
"It is very challenging to take a measured approached, to conduct normal operations, training and exercises that all navies around world can participate in," she told the press conference.
The exercise will continue until June 16 with intense live training that includes air defence, anti-submarine warfare, maritime interdiction and mine countermeasure operations.
For the first time, the exercise will be commanded ashore by Naval Striking and Support Forces Nato at its headquarters in Lisbon, Portugal, at its new maritime operations centre. It is also being co-ordinated through operations rooms in Germany, London and Naples, Italy.
Vice admiral Franchetti, who is also Naval Striking and Support Forces Nato commander, said the exercise would "demonstrate our continuous commitment to regional security and reinforce the inherent flexibility of our combined naval force to operate together under any circumstances".
Below is a full rush transcript of the Press Briefing by  Vice Admiral Lisa Franchetti Commander, U.S. 6th Fleet and Commander, Naval Striking and Support Forces NATO  And Rear Admiral Guy Robinson Royal Navy, Deputy Commander, Naval Striking and Support Forces NATO.
Vice Admiral Franchetti: All right and thank you very much for taking time to meet with us about BALTOPS 2020. I am Vice Admiral Lisa Franchetti, Commander, Naval Striking and Support Forces NATO and Commander, U.S. 6th Fleet, and I'm here today with Royal Navy Admiral Guy Robinson, my Deputy Commander at STRIKFORNATO. I am calling in from Naples, Italy, which is the headquarters of the U.S. 6th Fleet, while Admiral Robinson is calling in from Lisbon, Portugal, the headquarters of STRIKFORNATO, where we will command and control BALTOPS for the very first time.
I'm looking forward to answering your specific questions regarding exercise Baltic Operations 2020, or as we call it, BALTOPS 2020. But first, let me describe the exercise and why it is important to the Baltic Sea region.
In its 49th iteration, BALTOPS 2020 is the premier annual, joint, multinational maritime-focused exercise in the Baltic Sea. We leverage this U.S.-sponsored exercise to bring together NATO allies and partners to train together at sea for these 10 days to enhance interoperability and demonstrate NATO and partner commitment to security in the Baltic region. This is my second BALTOPS at STRIKFORNATO, and I can tell you firsthand how important this exercise is to building partnerships and cooperation with our NATO allies and partner nations. That is why it is especially critical that we continue to conduct BALTOPS this year, even in the face of the coronavirus pandemic. However, we are taking precautions to ensure our crews and partners stay healthy and operational. Accordingly, for the first time in its history, BALTOPS 2020 will be held entirely at sea. Still, given that planning factor, 19 NATO-allied and partner nations have committed to participate in this year's exercise, meaning that our crews will receive the critical international experience unique to BALTOPS.
This exercise will flex maritime and air forces to enhance our combined and joint capabilities, and our ability to work together in the challenging environment of the Baltic Sea. No single nation can address today's challenges alone. By participating in exercises like BALTOPS, each country reaffirms their commitment and ability to work together to maintain a stable, prosperous Baltic Sea region in our ever-changing, dynamic world. In fact, it is our history of steady combined operations that has enabled the dynamic flexibility required to execute this year's all-maritime exercise.
Now I'd like to introduce Real Admiral Guy Robinson. He is responsible for the tactical execution of BALTOPS 2020 and will provide you with an overview of the exercise before we take your questions. Guy?
Rear Admiral Robinson: I'm just reflecting that two years ago, we were both embarked on your flagship, the USS Mount Whitney, in the Baltic Sea, conducting our first exercise together, BALTOPS '18, and a great opportunity for us to exercise command from the sea. We took the decision last year to test the capability of your headquarters here in Lisbon to exercise command from a shore location, and that decision is now playing out throughout this exercise.
It really underpins the great variety that one can achieve through different methods of command and control. This is very much a distributed command-and-control arrangement where we're connected with your 6th Fleet headquarters in Naples; we're connected with our air cell at the Combined Air Operations Center in Uedem, Germany; we're working with our colleagues in the Joint Force Command in Brunssum; we're working with NATO Maritime Command in Northwood, London; and of course, most critically, I'm connected permanently to my two commanders of the two task groups that are at sea, two very experienced commodores who are providing that real-time feedback from the Baltic Sea.
In developing this exercise this year, as Admiral Franchetti has pointed out, we've obviously been very cognizant of the impacts of coronavirus, and that has meant several adjustments to the significant planning events that lead up to the delivery of an exercise of this complexity, and that has meant that we've adopted remote ways of working to replace conferences that are usually of several hundred people, and we've connected our headquarters through video teleconference, email, and other methods to achieve similar ends.
I think what I would take away from that approach is in many ways, this has felt more like a real-world operation in the fact that we're distributed and we're preparing remotely rather than the often very procedural planning method that we've achieved before in Baltic Operations exercises.
The exercise itself feels different to recent years because we've made the decision not to include amphibious forces in the exercise to keep the exercise entirely at sea, but that's no bad thing. This allows us to put a focus on different aspects of naval warfare, train different disciplines, and focus in different areas. My two commanders at sea will be delegated significant mission command – the term we like to use for giving tactical commanders freedom to determine the best way to achieve the missions that I direct them to from this headquarters in Lisbon.
As ever, it's an absolute privilege for me to be commanding a live operation, and a unique opportunity to do it from our headquarters in Lisbon.
Question: Russia has offered USA and NATO to reduce military activity and move it away from Eastern Europe to ease tensions in the region and free resources to fight COVID-19. You have already said about the precaution measures that have been taken, but do you consider that the exercises could wait till the pandemic is over?
Vice Admiral Franchetti: You know, it has been very challenging in the time of the coronavirus to take a measured approach to being able to conduct our normal operations and normal training events and exercises that all of the navies around the world participate in, as we balance the protection of the health of our sailors and their families, as well as the responsibility to be able to conduct our missions at sea. And so as we looked to put together BALTOPS 2020, we had a very important dialogue with all of the nations that had indicated they wanted to participate, and then each nation's participation was approved at the highest levels of their defense and even higher establishments to ensure that the forces could safely conduct these operations while taking into account their own unique national circumstances.
I would also say that many of the navies have been continuously operating at sea. The standing naval forces have been operating at sea. So again, this is a great opportunity for the navies to get together and conduct training operations and exercises that will improve their individual readiness as well as our ability to operate together.
Question: What is the U.S. Navy policy about Russian war planes buzzing that is, flying dangerously low over U.S. Navy ships in the Black Sea and the Baltic Sea?
Vice Admiral Franchetti: All navies operate in international waters and in international airspace, and we expect that all navies will operate in a professional manner – navies and air forces – and that is what we expect to see from the Russian navy and the Russian air force as well. Our expectation, again, is that all mariners operate safely and in a professional manner that doesn't endanger either another crew or themselves. So again, it's all about safety. Everyone has the right to operate in international waters and we all need to commit to doing that safely.
Question: What is your assessment of the current threat in the Baltic region, and how has it changed since 2014 and the annexation of Crimea?
Vice Admiral Franchetti: As we view the entire Baltic Sea, it's a very important place for commerce and the flow of goods and trade for everyone. From my time here in 6th Fleet and Striking Forces NATO, really just a little bit over two years, I would say that it remains a consistent place for navies to operate and train. I would say that we always, as part of the NATO alliance, are working together to ensure that we can deter any type of malign activity and be ready to defend. So as the operations continue, we look to the various navies to continue to develop their readiness to respond to any threat that they face at sea.
Rear Admiral Robinson: STRIKFORNATO has had the privilege of running BALTOPS since 2015, with the exception of last year when we were committed to a different exercise. So just looking at it through that lens, clearly we've had a Russian presence within the exercise, but it's always been safe and professional and as Admiral Franchetti alluded to in her earlier response – I mean, people have got the right to operate in the Baltic Sea and we just expect people to follow the professional conduct of mariners in going about their business. So we've not noticed any particular change in any threat through – viewed through the lens of BALTOPS.
Question: would the coronavirus affect the drills ? what is the effect of the coronavirus for the drills and what are the exact precautions, exact measures that will be taken during the drills to keep safe?
Vice Admiral Franchetti: I will – I'll turn it over to Admiral Robinson for the details on the exercise and how we've been able to shape it to be able to preserve the health of our force as well as reduce any potential risk to the nations by – in the past we had been going ashore. What I would say, and I can say just from the U.S. perspective as one of the participating nations, as I have three ships involved in the exercise, is that we have taken a lot of precautions ahead of time, before the ships got underway, to test the crew at various stages to make sure that they would get underway without coronavirus onboard, and then we maintain that bubble of protection by not introducing any new people into the exercise throughout the duration. So that's just one way, and then every nation then has a similar or a process that they use to make sure that their ships and aircraft are ready to operate safely and in a COVID-free manner.
So that's more on the individual navy perspective, but let me turn it over to Admiral Robinson for what we've done to shape the exercise in the time of the coronavirus pandemic.
Rear Admiral Robinson: Yeah, Admiral Franchetti. As I mentioned in my opening comments, I expect that the biggest adjustment that we've seen this year is not to introduce amphibious training into this exercise, which would normally involve putting marines from the sea to a shore. So that was a very obvious decision. There are some more subtle changes in order to avoid the various crews interacting with each other. So often there would be training serials that would involve the crews exchanging personnel; we regularly train boarding operations with the full cooperation of merchant vessels in the region. This time we will not be exercising boarding trainings, so we won't be putting any of our boarding teams onto any merchant ships in the region for purposes of training.
And then very directly in terms of my headquarters here, we've – we're running the exercise with less than 50 percent of the staff we would usually run that with. So that's required us to reorganize our staff and to train some people in roles they don't usually have, always a great opportunity, but we've got a lot less people here. Nearly everyone in this HQ are people that permanently work here, so we've taken a whole range of measures to minimize the risk while still providing a very rich and complex training environment.
Question: Do you think there is a danger of escalating tensions between NATO and Russia, especially in the Baltic region? And what are the reasons for that?
Vice Admiral Franchetti: I don't think it even has the possibility because BALTOPS is an ongoing, cooperative training effort. It's in its 49th iteration. And it's really designed to demonstrate the U.S. and NATO's transparent and predictable efforts to maintain joint interoperability and ensure that our forces are postured and ready to deter and defend against any type of regional aggression. I don't think this exercise can be interpreted as a threat to any specific country in the region, and it is very important to remember that we do generally conduct this exercise every June. It's very consistent for a number of years, taking advantage of the good weather, and we're usually anchored in Kiel Week, which unfortunately isn't happening this year again.
Question: Admiral Franchetti and Admiral Robinson, do you have any closing remarks?
Vice Admiral Franchetti: Well, I'd like to thank everyone for joining today and we look forward to sharing more stories with you about BALTOPS as it unfolds in our unique configuration this year. It's very exciting and we're very happy to have our opportunity to train at sea with our fellow navies. Thank you very much, Justin, for organizing the call.