"Multilateralism now faces greater risk than at any point since the end of the Cold War," said President Kassym-Jomart Tokayev of Kazakhstan, addressing the High-Level Meeting to commemorate the 75th Anniversary of the United Nations"
The history of the United Nations has been a period of intense collective efforts and rich learning: from decolonization to development, from child protection to climate change, from health to human rights, from peacekeeping to peacemaking… When we look around us today, many new challenges – and some old recurring ones – threaten to drag us back in time. Multilateralism now faces greater risk than at any point since the end of the Cold War. COVID-19 has proven surprisingly difficult to be overcome. A second arms race looms. Our strategic development goals are suffering setbacks," he said.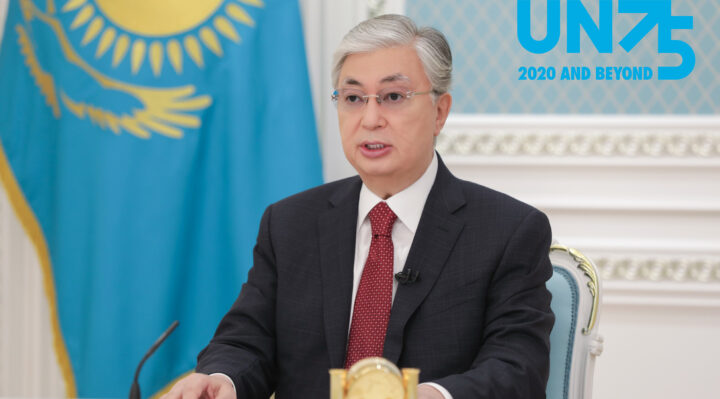 However, the President questioned the position that the ideals enshrined in the UN Charter are no longer realistic. "As President of my country and a former senior official of the UN, I strongly disagree. More than ever, we must give rein to the horse of our hopes, not pull back out of fear. We must galvanize efforts in pursuit of those shared ideals, not abandon them. We must continue to build a rules-based community, not return to lawlessness".
President Tokayev commended strong leadership by Secretary-General António Guterres and supported his work to boost the effectiveness, transparency, and accountability of the UN.
Over the last three decades since independence, Kazakhstan has participated in endeavors of every major UN body – including the Security Council – in pursuit of a range of priorities including conflict resolution, non-proliferation and nuclear disarmament, combatting terrorism, interfaith and interethnic dialogue, as well as promoting the interests of Land Locked Developing Countries.