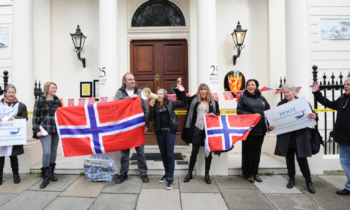 In a resolution approved on September 12, members of the European Parliament called on Norway to immediately end its whale hunting. The MEPs also called on Brussels to ensure that no whale meat transits through EU ports.
Specifically, the MEPs urged Norway to "cease all its commercial whaling operations" and to abide by the International Whaling Commission (IWC) moratorium. They asked the European Commission to provide data on shipments of whale meat transferred through EU ports.
The EU should consider all possible ways to ensure that whale meat no longer transits through EU ports, including a ban if need be, they added.
According to a European Parliament press release, the IWC moratorium on all commercial whaling was imposed in 1982, put into effect in 1986, and is still in force. Norway has nonetheless continued its whaling activities, and fully resumed commercial whaling in 1993, citing a formal objection to the moratorium.
Norway has killed over 13,000 whales since the moratorium came into effect, and unilaterally establishes its own catch limits. For the 2017 season, it increased its quota of whales to 999, up from 880 in 2016. Norway's exports of whale meat have grown sharply in recent years.
(neweurope)