On 6 January 2020, the Chairman of the NATO Military Committee, Air Chief Marshal Sir Stuart Peach officially welcomed Vice-Admiral Louise Dedichen as NATO Military Representative for Norway, and as the first woman to serve on the Committee.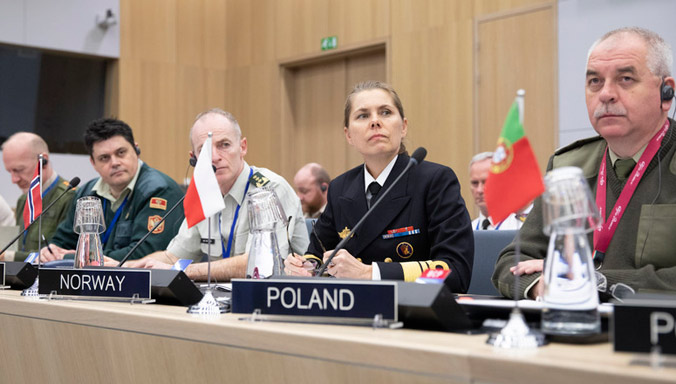 Appointed in June 2019, Vice-Admiral Dedichen takes over from Vice Admiral Ketil Olsen as the NATO Military Representative for Norway. Welcoming the Admiral, the Chairman of the NATO Military Committee highlighted the historical significance of the appointment. "NATO and its Allies recognise the importance of a more gender-balanced military. Across the Alliance, we are seeing an upward trend and more women are being appointed to decision-making positions. More women in national high-level positions translates into more women in NATO military high-level positions. It is important to strengthen women's voices everywhere – from our meetings to our missions", emphasized Air Chief Marshal Peach.
Thanking the Chairman, Vice-Admiral Dedichen highlighted the great honour of being appointed to the NATO military committee. "It is essential in a large and powerful organisation like NATO to see the big picture. The world situation is not identical to everyone and so increasing the number of woman at NATO makes the Alliance stronger and better prepared to deal with the security challenges it faces", she added.
Vice-Admiral Dedichen was also the first woman appointed Vice-Admiral and Commodore in the Norwegian Navy. For the last 12 years, she has been serving as the Commandant for the Norwegian Defence University College. Prior to this, she held a variety of positions such as Head of Section for Logistics, Public Relations Officer, Contract Negotiator and Teacher in Economics. This is not Vice-Admiral first foray into the NATO environment, from 1995–1998, she was the aide-de-camp to the then NATO Military Representative for Norway.
Since its creation in October 1949, the Military Committee has been the most senior military authority in NATO and the essential link between the political decision-making process and the military structure. It is the primary source of consensus-based advice to the North Atlantic Council on military policy and strategy, and recommends measures considered necessary for the defence of the NATO area and the implementation of decisions regarding military operations.
With each new accession, the Military Committee as grown to include representatives from each new nation. Today, all 29 Allied Nations have an equal voice at the table. The Republic of North Macedonia is also represented but under an observer status until its official accession.