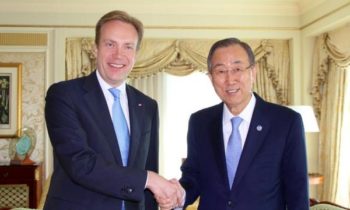 'I am very pleased that the parties to the conflict have now reached agreement on the key issue in the negotiations: laying down of arms and a definitive bilateral ceasefire and end of hostilities. After nearly four years of tough negotiations, we are now finally approaching an end to this conflict,' Minister of Foreign Affairs Børge Brende said.
Juan Manuel Santos, President of Colombia, and Timoleón Jiménez, head of the guerrilla group Farc-EP, today announced a historic agreement to bring an end to the conflict in their country. Foreign Minister Børge Brende took part in the formal ceremony in Havana, together with UN Secretary-General Ban Ki-moon and President Raúl Castro, among others.
'For the people of Colombia, the end of the conflict is finally within reach. I hope the parties to the conflict will soon be able to sign a final peace agreement and start a new chapter in the history of their country,' said Foreign Minister Brende.
The ceasefire and the end of hostilities will be monitored by the UN with a mandate from the Security Council, and a number of international observers are to take part in the operation. This agreement provides the conditions for enabling Farc to become a political actor rather than an armed group. It also contains security guarantees and a commitment to intensify its efforts to prevent attacks on human rights defenders and social leaders. It is hoped that a final peace agreement can be signed in the near future.
The peace talks were formally launched in Oslo in 2012. The remaining topics on the agenda to be negotiated are the reintegration of Farc and mechanisms to implement the agreement, as well as a referendum on the final peace agreement. Norway and Cuba are facilitating the negotiations in Havana.
The armed conflict in Colombia has lasted for more than 50 years. The humanitarian consequences are enormous, and the conflict has brought widespread suffering to the country's population. Several hundred thousand people have been killed, and nearly seven million have been internally displaced. A large proportion of the victims are children and young people.
(MFA)