British diplomats have met the Taliban in Norway, as Afghanistan's new rulers asked the West to drop sanctions and restart aid as the country slides into economic meltdown.
Boris Johnson's special envoy to Afghanistan joined counterparts from America and others allies in talks with envoys from the victorious militant movement on their first European visit since taking power.
Taliban envoys arrived on an executive jet to take part in the closed-door discussions on the outskirts of the Norwegian capital, Oslo.
Critics said the meeting lent legitimacy to the newly-restored emirate, which has been accused of conducting reprisals killings against members of the former government and has blocked girls from secondary school in much of the country.
But diplomatic sources said the scale of the country's economic crisis is so vast they had no alternative but to deal with the Taliban to prevent a humanitarian collapse and possible migration exodus.
Taliban sources said they would be calling for the resumption of aid and the unfreezing of Afghanistan's foreign reserves, after sanctions in response to their takeover tipped the country into ruin.
"We are requesting them to unfreeze Afghan assets and not punish ordinary Afghans because of the political discourse," said Taliban delegate Shafiullah Azam ahead of the talks.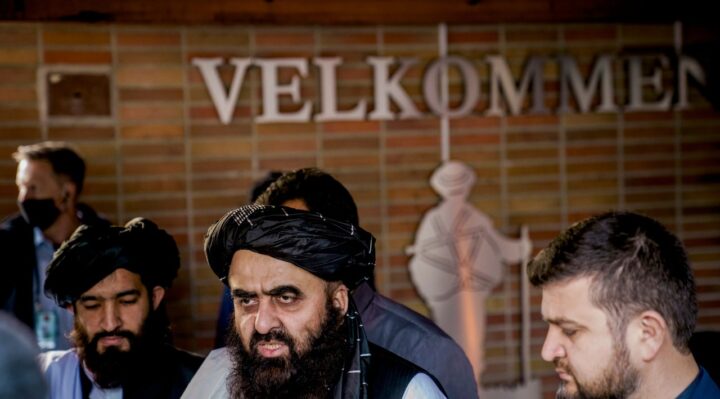 "Because of the starvation, because of the deadly winter, I think it's time for the international community to support Afghans, not punish them because of their political disputes."
The UK delegation led by Nigel Casey was expected to press the Taliban on unfulfilled promises to safeguard women's rights and prevent the country becoming a haven for al-Qaeda.
Millions of Afghans cannot feed themselves and many face starvation after aid stopped in the wake of the Taliban seizing power and the economy seized up. Sanctions have been slightly eased to allow aid agencies to deliver food and medicines, but commerce remains paralysed and unemployment has jumped.
The militants-turned-rulers are particularly keen to see nearly $9bn in foreign reserves unfrozen. But the White House has said the Taliban have only themselves to blame and were warned last year that aid would cease if they scorned talks with Ashraf Ghani and seized power by force instead.
"We will continue clear-eyed diplomacy with the Taliban regarding our concerns and our abiding interest in a stable, rights-respecting and inclusive Afghanistan," US special representative Thomas West said ahead of talks.
The Taliban's foreign minister said the talks were an achievement in themselves to the new rulers.
He said: "Norway providing us this opportunity is an achievement in itself because we shared the stage with the world… From these meetings we are sure of getting support for Afghanistan's humanitarian, health and education sectors."