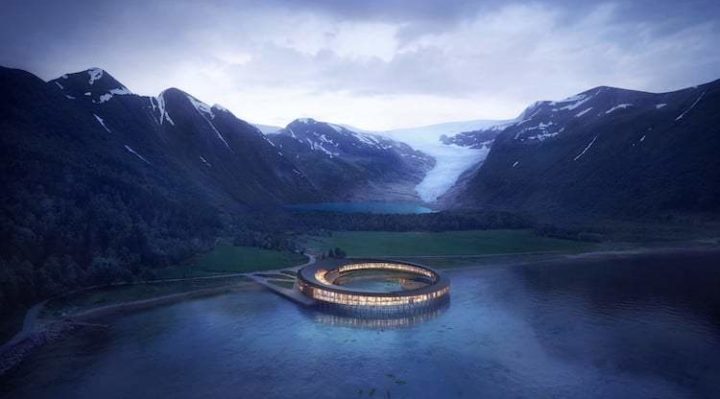 Norway architects Snohetta and Vitar AS have created the first energy net-positive hotel. The project, entitled 'Svart', will see its design become an extension of the Holandsfjorden shoreline and allows guests 360-degree views of the Svartisen glacier. It will generate more renewable energy over a 60 year period than required to build, operate and demolish the architectural wonder.
Snohetta project manager Zebulon Kahn states that "nature in the Arctic is fragile and pristine… We have to respect the beauty of the location and not ruin what makes Svartisen an attraction in the first place." He admits that this was an "extremely challenging task."
As this part of the world experiences more extreme cold than other parts, building materials need to be properly weather resistant. The circular wood design, one informed by nature, is the result. Set on poles it extends the shoreline over the fjord. Inspired by local fisherman's summer homes and fish drying structures, it aims for visitors' appreciation. The summer boardwalk can be used as a walkway in the summer with boaters able to float underneath and in the winter can be used for boat storage.
Rooftop solar panels, geothermal wells and geometry built to reduce consumption all play a part in making his build a net positive energy output. It has 85 per cent less compared to contemporary hospitality builds.
It is the northernmost building and the first hotel of its kind to achieve this level of sustainability. "By building such a sustainable structure, we thrive to encourage a more sustainable approach to tourism by making our society conscious and aware of the way we live, travel, and experience exotic locations responsibly," explained Khan.
The hotel is scheduled to be open in 2021 and will be the world's first energy-positive hotel above the Arctic Circle, which would mean it will generate more energy than it uses.
(faroutmagazine)