On 27 August local time, Norwegian Prime Minister Erna Solberg met with China's State Councilor and Foreign Minister Wang Yi in Oslo, who was in Norway on an official visit.
Wang conveyed the cordial greetings from Chinese leaders to Solberg. Noting that it has been 15 years since a Chinese Foreign Minister visited the country, Wang said the main message of his visit was that China cherishes the hard-won progress in bilateral relations, and hopes to work with Norway to cement the political foundation of this relationship, implement the important consensus reached when relations normalized, and ensure the long-term, steady and sustainable development of bilateral ties. As COVID-19 now poses a long-term challenge and its containment becomes the new normal, the two sides should resume bilateral political exchanges as soon as possible, strengthen mutually beneficial cooperation in various fields, and prevail over the virus together. The two countries should work jointly to contribute to global economic recovery and world peace and stability.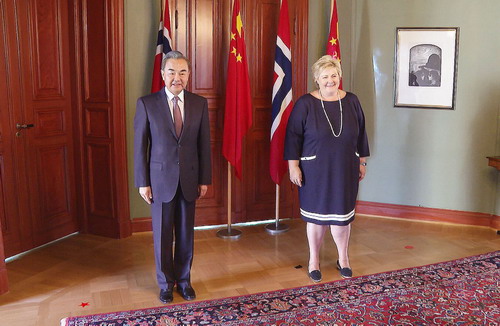 Wang said that China is willing to work with Norway to promote cooperation on vaccine R&D and production, establish maritime cooperation and dialogue mechanisms, speed up FTA negotiations, defend the free trade regime with concrete action and accelerate both countries' development through greater openness to each other. China is happy to see Norway play a more active role in international affairs, and is ready to strengthen cooperation with Norway on UN Security Council affairs and development issues, and jointly uphold multilateralism. The two sides should also strengthen cultural exchanges and deepen cooperation in winter sports and other related areas to make contributions to a successful Beijing Winter Olympics.
Solberg asked Wang to convey her sincere greetings to President Xi Jinping and Premier Li Keqiang. She said that China has made great achievements in economic and social development and will soon achieve the goal of eradicating absolute poverty, setting an example for the international community.
Solberg noted that Norway-China relations have developed smoothly in recent years and said that Norway hopes to conclude FTA negotiations as soon as possible and strengthen, among others, vaccine R&D and maritime cooperation. Norway has always been a firm supporter of multilateralism, and is willing to cooperate with China on UN Security Council affairs and ensure the effective operation of international organizations such as the United Nations and the World Health Organization. Norway stands ready to strengthen cooperation with China in winter sports personnel training and other fields, and looks forward to a successful Winter Olympics in Beijing.
On the same day, Wang held talks and met the press with Norwegian Foreign Minister Ine Eriksen Søreide.