The ceremonial event of the Constitution Day of Norway took place on May 23, drawing the participation of several hundred guests to review friendship while tasting Norwegian seafood in the embassy's courtyard. The Norwegian Ambassador to China Signe Brudeset gave a speech, followed by a speech by Vice Foreign Minister Qin Gang. In Brudeset's speech, she talked about the growing bilateral ties and extended wishes for deepening relations in the future.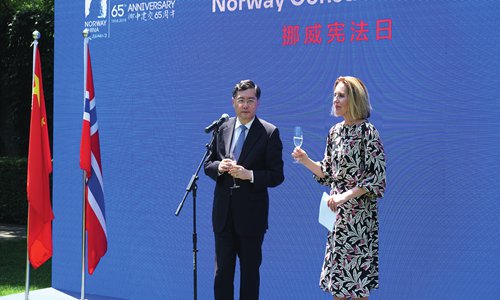 "This year, we are celebrating the 65th anniversary of diplomatic relations, and as the Chinese saying goes "Dong Xi Shi Xin De Hao, Peng You Shi Lao De Qin [Everything is good when new, but friend when old], with more than six decades behind us, we are old friends indeed. In the next six decades, new generations will make their own contributions to the Sino-Norwegian relationship," the ambassador said.
"To meet the challenges of the 21st century, such as achieving the sustainable development goals and fighting climate change, we need to work together." Qin briefed the high-level exchanges that mark a very good momentum in the bilateral relationship.
"Recently, President Xi Jinping sent a congratulatory message to His Majesty Harald V for the National Day of Norway, in which he extended warm congratulations and best wishes on behalf of the Chinese government and people. Last week, National People's Congress Chairman Li Zhanshu paid an official friendly visit to Norway, injecting new impetus for the development of China-Norway relations," Qin said.
Source: – (Global Times )