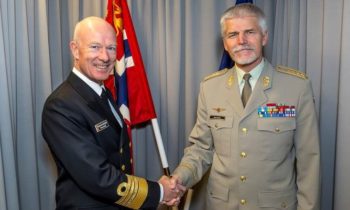 The Chairman of the NATO Military Committee, General Petr Pavel concluded a four-day trip (11 to 14 October) to Norway where he attended the 61st Session of the NATO Parliamentary Assembly, visited the Joint Warfare Centre (JWC) and met His Royal Highness King Harald V of Norway.The Chairman of the NATO Military Committee, General Petr Pavel started off his country visit to Norway by addressing the members of the Defence and Security Committee of the NATO Parliamentary Assembly. He highlighted NATO's progress on implementing the pledges made at the Wales Summit in 2014 and the challenges that still lie on the road to the Warsaw Summit in July 2015. "The Readiness Action Plan (RAP) is just the first step in adapting the Alliance for the challenges of the 21st century. The RAP will be implemented by Warsaw, and more importantly ready to deter any threat the Alliance may encounter".
The trip was also an opportunity to visit the Joint Warfare Centre (JWC) in Stavanger, Norway. The Centre's main task is to train NATO forces, including elements of the NATO Response Force (NRF), at the operational level to ensure they remain interoperable and fully integrated. In order to react swiftly and decisively to sudden crises, the NRF must remain ready, relevant and responsive.
While in Oslo, General Pavel, met with the Norwegian Minister of Defence, Ine Eriksen Søreide and the Norwegian Chief of Defence, Admiral Bruun-Hanssen. They discussed NATO's response to the changed security environment and Norway's vital role in the Alliance. "Norwegian troops contribute to NATO's missions in Afghanistan and Kosovo. You are showing strong solidarity by leading our Baltic Air Policing mission, and through your participation in the interim Spearhead Force. Norway is also active in NATO's exercises on land, at sea and in the air and we are grateful for your efforts to improve Nordic defence cooperation", General Pavel emphasised.
During his flight to Kirkenes Air Base, General Pavel was able to observe a Norwegian Maritime Patrol during an Intelligence, Surveillance and Reconnaissance (ISR) mission. Norway's Maritime Patrol and Border Guard have more 100 916 km of coastline to oversee, which is twice the circumference of the Earth. Once again, the Chairman of the NATO Military Committee thanked Norway and its Armed Forces for "being such a model Ally. You play an active and effective role in keeping NATO strong".