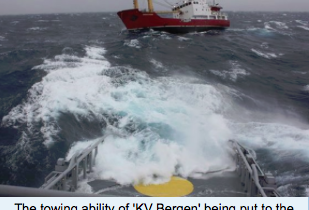 It has been a busy winter period for the Norwegian Coast Guard with one of its patrol vessels tasked to two separate incidents involving a disabled ex-buoy tender and a drifting barge carrier.
The Norwegian Coast Guard vessel KV Bergen is a VS794CG design, described as a patrol vessel but with multipurpose capabilities including towing and salvage and in effect an 'emergency towing vessel' in its own right, one of a number protecting Norway's hostile and exposed yet environmentally vulnerable coastline.
Its towing capability was put to the test recently when the former Norwegian buoy tender Vikingfjord called for assistance after suffering machinery failure in bad weather conditions while off Sotra, west of Bergen on the country's south west coast. KV Bergen was just a few hours steaming away and responded to Vikingfjord's request for help.
Once on scene KV Bergen reported bad weather conditions including 25' high seas and wind gusting up to 60 knots and with assistance from another 'VS' designed vessel, the Ocean Response a towing connection was established with the Vikingfjord. Problems however with the connection led to the tow line parting and a second connection had to be made after which slow progress was made towards shelter. Once near shore the tow was reported as being handed over to the tug Sjøbas which towed the disabled vessel towards Korsfjorden.
Just two weeks previous to the above incident, KV Bergen along with the patrol vessels KV Sortland and KV Tor were called into action when the 40,000dwt barge carrier Tide Carrier dragged its anchor and reportedly came within 100m of running aground off Jæren, Norway.
It was reported that the vessel lost power and attempted to anchor to arrest a shoreward drift. After regaining power and getting under way Tide Carrier once again lost power and re-anchored deploying two anchors. An injured crewmember along with four non-essential crew were airlifted off the vessel and two pilots and two towage company employees put on board to assist with the operation.
Dramatic aerial footage of the operation later showed the Buksér og Berging tug BB Server establishing a towing connection with the Tide Carrier and along with another tug towed the vessel to a safe anchorage off Feistein Fyr.
Looking at the two main 'players' in these incidents, KV Bergen is managed by Fosnavåg-based Remøy Management on behalf of the Norwegian Coast Guard. Built by Myklebust Verft AS in 2010 the vessel has a length of 93m and gross tonnage of 4,025gt. BB Server is a multifunctional ship-assist and escort ASD tug built by Moen Slip in 2008. At 37m LOA, two ABC main engines develop 2,100kW in total and deliver a bollard pull of 71t via Schottel CP azimuth thrusters.
(maritimejournal)