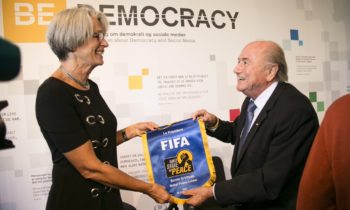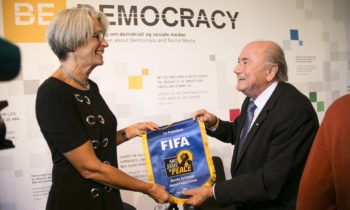 FIFA President Blatter visited the Nobel Peace Center in Oslo, Norway to promote and share the successful implementation of the Handshake for Peace during the 2014 FIFA World Cup™. The visit began with a tour of the Nobel Peace Center, including a short presentation and viewing of the exhibition space. Following the tour, FIFA President Blatter joined the Director of the Nobel Peace Center Bente Erichsen and the Norwegian Football Association (Norges Fotballforbund, NFF) President Yngve Hallen for a press conference, where they shared thoughts about the continued success of the Handshake for Peace."The Handshake for Peace is more than just to speak about peace," FIFA President Blatter said. "It is to bring people together, to connect people. In our statutes, we are not working directly for peace, but we have to work for a better future and a better future for our youths.
"Our cooperation that we have with you and your organisation here, Handshake for Peace, it is a confirmation of what we are doing together."
NFF President Ynge Hallen said: "Handshake for Peace started in Norway and it has spread all around the world, and it has been a fantastic journey together with FIFA and the Nobel Peace Center."
The press conference was followed by a visit to the headquarters of the Norges Fotballforbund, including a tour and a meeting with NFF executive committee members and various guests.
FIFA President Blatter concluded his visit by attending Norway's UEFA EURO 2016 qualifier against Bulgaria at the Ullevaal Stadium in Oslo.
The Handshake for Peace supports the third pillar of FIFA's mission – to build a better future through football, and will feature at all future FIFA tournaments.
The joint initiative came to life after a promise made between the two organisations at the 2012 FIFA Congress in Budapest.
(fifa)