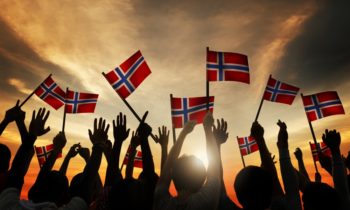 "The government's focus on transport and communications links the nation ever closer together. We are building roads and railways at a pace never before seen, with particular focus on technology. In pursuing our objectives in this sector we are making life easier for the majority of citizens, supporting the competitiveness of our trade, industry and commerce, and developing and expanding population and commercial regions. The government proposes an investment of 73.1 billion kroner in transport and communications. This is an increase of 5.4 billion kroner or 7.9 percent compared to the balanced budget for 2018. This proposal results in an impressive 75 percent increase in the transport and communications budget since 2013".
These are the words of Minister of Transport and Communications Jon Georg Dale in connection with the announcement by the government of the national budget for 2019.
A good infrastructure is an investment in future welfare. The government proposes to allocate 73.1 billion kroner for transport and communications in 2019. Of this, 65.2 billion is earmarked to continue the work on the National Transport Plan 2018-2029. "Our main priorities in the transport budget are in other words based on the main objectives of the National Transport Plan, with improved access for people and goods nationwide, a reduction in the number of accidents and reduced emissions of climate gases", says Dale.
Continued efforts on roads and road safety
"Better roads and road networks create improved travel for both commuters and citizens in general, and also ensure major improvements in the efficiency and speed of goods transport. We are also keenly aware that safe and secure roads are a key factor in our work on road safety. This government has greatly increased resources allocated to the maintenance of current roads and construction of new roads. The backlog of maintenance work on the national road network has been reduced from 2015 for the first time in decades. With the new budget proposal the total backlog of maintenance necessary for our national road network will be reduced by about 1.8 billion kroner in 2019", says Dale.
The government proposes an allocation of approximately 5.7 billion kroner for maintenance and renewal measures for the national road network in 2019. This is an increase of roughly 600 million kroner compared to 2018. The maintenance backlog has been reduced by approximately 7 billion kroner since 2015.
"We are bringing the nation closer together with the opening of many new roads and a total of 104 kilometres of four-lane motorways. We propose to continue to introduce new road construction projects in 2019", says Dale.
The government proposes to invest 514.4 million kroner in road safety measures and initiatives in 2019. In addition to this is the approximately 40 million kroner from external financing. The funds will primarily be used to finance new measures to prevent the most serious accidents such as head-on collisions and accidents where vehicles drive off the road. These investments come in addition to the continued construction of new roads and maintenance of the existing road network.
Continued improvement to the railways
The investments we have made in rail transport have borne fruit. Passengers and businesses now enjoy a greatly improved train service. We see a robust growth in the number of travellers, the number of services is increasing and rolling stock is being renewed.
"We continue the work of transforming the Norwegian rail network into a modern and well-functioning transport system that can carry large volumes of passengers to their workplaces each day in an environmentally friendly way. The rail budget of 26.4 billion kroner in 2019 represents an increase of about 2.9 billion kroner or 12.4 percent more to investments in rail than in 2018", says Dale.
The government also proposes to allocate 160 million kroner to the refurbishment of rolling stock and the phasing in of new. New trains will operate in the Eastern Region and the Voss Line.
Improved public transport services
"There must be incentives to use environmentally friendly travel options. The government will continue to invest in the railways, and also propose to increase investments in other kinds of public transport, pedestrian footpaths and bicycle paths. The government proposes an investment of more than 3.7 billion kroner to the urban growth and urban development agreements and incentive agreements for the nine largest cities and towns. This is an increase of roughly 50 percent from 2018", says Dale.
The state will pay 50 percent of the cost for major public transport infrastructure projects for the four largest city and town areas that are encompassed under an urban environment or urban growth agreement. The government proposes to almost double investments in 2019 compared to 2018. The Fornebu line in Oslo and Akershus, The Light Rail to Fyllingsdalen in Bergen, Metrobuss in Trondheim and Bussveien at Nord-Jæren will receive over 1.5 billion kroner.
Preparing the groundwork for maritime transport
The government has the objective of transferring more cargo from road to sea. This supports the development and growth of coastal shipping, provides environmental benefits and will result in fewer heavy goods vehicles on our roads.
"We will continue the work of facilitating the growth and development of maritime transport. We see that vessels are increasing in size generation by generation, which creates major problems when they are to enter ports and harbours. It is for this reason absolutely necessary to improve our fairways in order to prepare for the arrival of larger vessels. The government proposes to invest funds in both the completion of and commencement of fairway projects in 2019", says Dale.
Further, the government proposes to increase funding by 40 million kroner to accelerate the work on maintenance of navigational installations at sea.
Aviation
"The government places high priority on securing good airline transport throughout Norway. A key element in this is securing good aviation services in the districts. We therefore have a number of measures and initiatives that contribute to maintaining a comprehensive regional air network", says Dale.
Of the approximately 1.1 billion kroner the government proposes to allocate to aviation in 2019, 717.4 million kroner will therefore go to the purchase of air transport, and 31 million kroner to subsidies for non state-owned airports.
Postal services
 The government proposes 534 million kroner for state purchases of unprofitable postal and banking services. This contributes to the financing of the distribution of post nationwide five days per week in 2019, basic bank services in the rural postal network and the free delivery of Braille post. Further, the government proposes to allocate 83.4 million kroner for the distribution of newspapers on Saturdays.
 Early start for 5G
Good mobile phone reception is a prerequisite in securing a widespread population and trade and commerce nationwide. The government will prepare for the next generation mobile network, 5G. The state has therefore entered into an agreement on the early release of frequencies in the 700 MHz band. The government proposes to allocate 150 million kroner to this end, which will facilitate the introduction of advanced mobile services and an early start for 5G in Norway.
"The objective is to ensure that Norway is at the forefront in the implementation of new technology. We want to ensure that Norway remains an attractive country to invest in, and we, the authorities will do our part. 5G is not simply a faster version of 4G, with which we are familiar; it will also be a platform for innovation and wealth creation. We have already seen that Norwegian companies and entrepreneurs have started to position themselves in this market. There is great potential here for Norwegian participants", says Dale.
( Press release MFA )