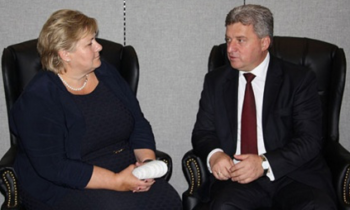 President Gjorge Ivanov met with Norwegian Prime Minister Erna Solberg on Monday, in the frameworks of the 71th United Nations General Assembly in New York. The interlocutors voiced readiness for enhancement of cooperation in all spheres of common interest, as well as intensifying the bilateral political dialogue, the President's Office said in a press release.
"Political dialogue needs to enhance in the coming period, resulting in increased dynamics of cooperation, especially in the fields of economy and security", said Ivanov. The President thanked Norway for its assistance and support through a number of projects aimed at enhancing important sectors of Macedonian society.
Solberg congratulated Ivanov on Macedonia's 25th independence anniversary and reaffirmed Norway's commitment for Euro-­Atlantic integration of Balkan countries. In addition, she said Norway would continue to provide support and cooperate with Macedonia, reads the press release.