Oslo, Norway – In a ceremony held at the Akershus Fortress, in Oslo, Norway, command of Standing NATO Mine Countermeasures Group One (SNMCMG1) was transferred to Commander S.G. Henning Knudsen-Hauge of the Royal Norwegian Navy, on Wednesday, January 15, 2020. The outgoing commander, Denmarks's Commander S.G. Peter Krogh, had commanded the group for a 12-month planned rotation which began in January, 2019.
Over the last twelve months, 16 ships have participated in SNMCMG1, patrolling the waters of Northern Europe.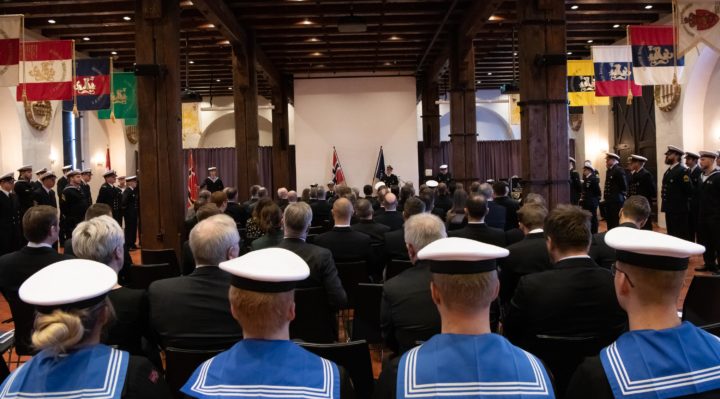 SNMCMG1 ships provided NATO with a constant presence in the North to re-assure Allies and deter any potential aggressors; monitored NATO's sea lanes contributing to maritime security; routinely trained with Allies and Partners, including participation in several large multinational exercises and numerous individual training opportunities, enhancing Allied interoperability.
Ceremony in Oslo was presided by Commodore Jeanette Morang, Commander Surface Forces NATO.
Quotes
"All the nations that contributed the 16 ships and personnel to Standing NATO Mine Countermeasures Group One over the last year have shown outstanding dedication to NATO's mission in the North. The achievements over the last year speak highly for Denmark, Commander Peter Krogh and his team, to which we express our greatest appreciation. I look forward to working with Commander Henning Knudsen-Hauge, another highly capable officer who I am sure will continue the outstanding efforts in NATO's mine countermeasures mission over the next six months."
— Commodore Jeanette Morang, Commander Surface Forces NATO
"It has been a true pleasure both professionally and socially to Command the elite Mine Countermeasures forces of NATO. I have met nothing but open doors and willingness from key players to assist no matter which nation we visited or operation we conducted. Thank you for the support and cooperation to all involved. I wish the best of luck to my successor and I am convinced he will appreciate his time as much as I have!"
— Commander S.G. Peter Krogh, Royal Danish Navy, Outgoing Commander of Standing NATO Mine Countermeasures Group One
"I'm humbled and proud to be able to assume command of SNMCMG1. As an officer who has spent my entire career in the MCM environment, this is the pinnacle of my career. My time in the MCM environment has confirmed my beliefs that the MCM community, both socially and professionally are a group of people working for the greater good. The MCM is truly multinational, and my time as Commander is a true testimony to this, with a multinational staff, with the majority from Norway, deploying aboard a German ship, and becoming one united crew, working for NATO and safe shipping. Time and time again, MCM proves that the slogan "We are NATO" is not just a slogan, but a description of our reality. I'm looking forward to the next 6 months, and I find myself humbled by the huge effort each serving member, ship and nation put into this ongoing effort."
— Commander S.G. Henning Knudsen-Hauge, Royal Norwegian Navy, Incoming Commander of Standing NATO Mine Countermeasures Group One Commander
Quick Facts
· SNMCMG1 is one of four standing forces that comprise the maritime component of the Very High Readiness Joint Task Force (VJTF), which is part of the NATO Response Force (NRF). To respond to contingency situations additional forces can be added to these groups, with the NATO command staff onboard and the ships of the group as the nucleus, capable of providing timely support to NATO operations.
· Since January 2019, SNMCMG1 has had 16 ships participating from across the Alliance:
· Commander S.G. Peter Krogh assumed Command of SNMCMG1 on January 14, 2019, and hoisted his flag on HDMS Thetis.
· His command was supported by a total of 19 dedicated Danish staff members, 13 international staff members (from 9 different nations), and a number of flagship staff members who provided double-hatted support.
· In 2019, the group carried our 7 Historic Ordnance Disposal (HOD) operations, destroying a total of 148 mines.
· They spent 85 days looking for mines and searched over 210 square nautical miles.