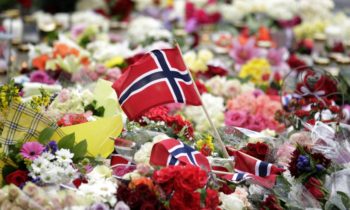 Breivik's massacre began on July 22, 2011, with a car bomb in Oslo that killed eight people. Later that day, using a semi-automatic rifle, he went on a shooting rampage on the island of Utoya, killing another 69 people, most of whom were young campers.
How did Norway react? And does it offer any lessons for the US — a nation that has once again been devastated by a mass shooting?
Åsne Seierstad, a Norwegian journalist and the author of "One of Us: The Story of Anders Breivik and the Massacre in Norway," says some of the discussions people had in Norway after Breivik's attacks mirror the ones that Americans are having after the Pulse nightclub shooting in Orlando.
"The main question we asked ourselves is, 'Is he mad man, or is he a political terrorist?'" Seierstad says. "Those are two different things."
Oslo District Court ruled that Anders Breivik was political terrorist and sentenced him to the maximum prison term allowable in Norway: 21 years in prison, with the possibility of an extension. The court found that Breivik was sane and responsible for the 77 murders, even though he had been diagnosed with a mental illness.
"He got the diagnosis of narcissistic personality disorder, but that doesn't exempt you from being punished," Seierstad explains. "You're still accountable for your crime. You know what you did, you knew you had a choice, you knew you could stop."
Since Breivik's attacks, the country hasn't faced any mass shootings — something that can't be said about the US.
Like Americans, many Norwegians own guns. But according to Seierstad, the culture of gun ownership is very different in the two countries. In Norway, for example, it's uncommon to see guns outside organized settings like gun clubs or during hunting season.
"Yes, there's a high percentage of gun ownership in Norway," she says, "but those guns are used mainly one week in the year during the hunting of elk season … the rest of the year it's locked down and stored."
Even US and Norwegian law enforcement have different approaches to firearms.
"The police has not been armed in Norway," Seierstad says. "People in the US could say, 'Well, isn't that scary?' Well when the police is not armed, the drug dealer is not armed, the criminals are not armed, because no one is armed."
After Orlando, Americans and US lawmakers are arguing over whether to strengthen (or even weaken) gun regulations. But after the attacks in Oslo and Utoya, Norwegian law didn't change.
The Norwegian government did set up a committee that proposed tighter gun laws — including mandatory medical background checks, regular checks on weapon owners and better lists accounting for guns with lead ammunition — but none these proposals went into effect.
Why? The reason was pretty simple.
"We had quite restrictive laws," Seierstad explains. "We have very very few gun accidents and gun murders."
(pri)