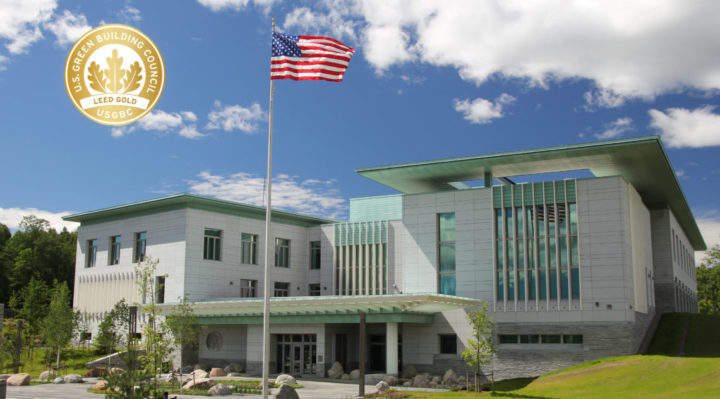 The new U.S. embassy at Makrellbekken in Oslo has achieved LEED Gold certification for its numerous green elements. The embassy's environmental features includes the restoration of a seasonal stream that runs through the site, green roofs, preservation of existing landscape, maximized use of natural light and a ground-source heat exchange.
LEED, or Leadership in Energy and Environmental Design, is the leading benchmark in green building.
The restored stream and ground source heat exchange system enable the building to meet 90% of peak heating load and 100% of peak cooling load with energy stored in bedrock by the heat pump, a renewable resource.
To encourage the use of environmentally friendly transportation, the building is located within 300 meters of public transportation (Makrellbekken T-bane station) and includes more than 45 bicycle parking spaces
Reduced dependence on artificial lighting saves energy, reduces operating costs, and provides health benefits. In the new embassy, windows nearly three meters tall maximises the brief hours of winter daylight and take advantage of mid-summer's long days.
The design complements Norwegian architectural tradition, including horizontal roofs that are typical of a traditional Norwegian longhouse. The design also includes natural stone, weathered copper facades and extensive natural landscaping.
Read more about LEED certification here: usgbc.org/leed