The United States on Thursday called on European countries to move quickly to recognize Venezuela's opposition leader Juan Guaido as interim president ahead of a deadline by major EU states.
Kimberly Breier, the US assistant secretary of state in charge of Latin America, welcomed a vote Thursday to recognize Guaido by the European Parliament, although the move does not change EU policy.
"We certainly encourage all the governments in Europe to support the people of Venezuela and the transitional government in Venezuela by recognizing Guaido as interim president," Breier told European reporters in a telephone press briefing.
Besides the United States, major Western Hemisphere powers including Brazil, Canada and Argentina have followed suit.
Four major European powers — Britain, France, Germany and Spain — have set a deadline of this weekend for Maduro to call new elections, failing which they will recognize Guaido.
The European position is not unanimous with Greece's ruling leftist Syriza party pledging support for Maduro, who also enjoys the backing of Russia and China.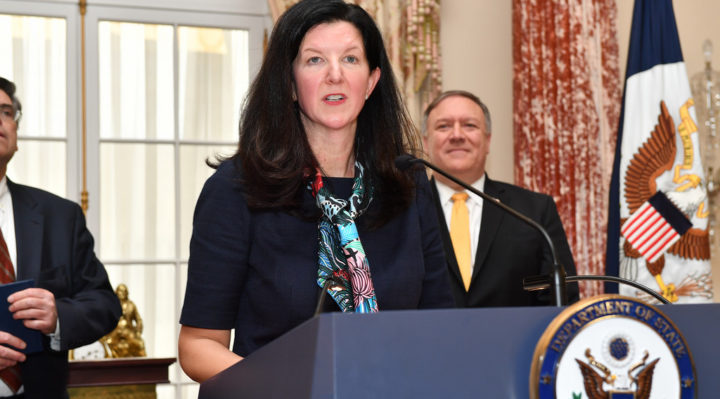 Below is a full rush transcript of the press conference by Assistant Secretary Kimberly Breier, Western Hemisphere Affairs.
A/S Breier: Thank you so much for the opportunity to speak with you today about our efforts to support the Venezuelan people in confronting their dictatorship and humanitarian crisis and restore democracy to their country. I particularly wanted to focus today on how our friends in Europe may be able to help us in this regard.
Since National Assembly President Guaido followed the Venezuelan constitution on January 23rd and became interim president of Venezuela, he has begun leading a transitional government to organize free and fair elections. There's been a strong marked global response both on the streets of Venezuela, by the Venezuelan people, and around the world. More than 20 countries have recognized Juan Guaido as interim president, and we are very heartened today by the resolution passed by the European Parliament recognizing Juan Guaido as interim president. We certainly encourage all governments in Europe to support the people of Venezuela and the transitional government by recognizing Guaido as interim president.
A number of EU states have said they will recognize Guaido by February the 3rd, and we welcome more member states in doing the same.
We would also welcome additional steps as we have taken here in the United States and you've seen taken in many countries around the Western Hemisphere, to accept and credential official representatives of President Guaido's government.
We hope to have another urgent calling as we meet today to look at ways we can work together to address the growing humanitarian crisis in Venezuela. Venezuela's National Assembly has rightly stressed the need for immediate international assistance in response to the increasingly urgent humanitarian needs of the Venezuelan people.
On January the 24th Secretary Pompeo announced that the United States is ready to provide more than $20 million in initial humanitarian assistance to the people of Venezuela as they struggle to cope with severe food shortages, medicine shortages, and other dire impacts of their country's political and economic crisis. These funds come in addition to the more than $140 million the United States has already provided throughout the region to support Venezuela's displaced population.
We continue to assess humanitarian needs throughout the region to determine what additional assistance we can provide through our partners and intergovernmental efforts. We greatly appreciate the generosity and compassion of countries throughout the hemisphere who are hosting more than three million Venezuelans who have fled their country. We commend the humanitarian contributions made by all donors and encourage additional contributions to meet the growing humanitarian needs.
The humanitarian situation demands action now and action today. We would welcome additional European efforts and support for this effort.
I'd also like to talk a little bit today about what's happened since the 23rd of January, but what happened prior to that that led to those events. I'd like to first highlight that this is a hemispheric effort. The Lima Group and other countries in the Western Hemisphere have been at the forefront of assisting and supporting the democratically elected National Assembly in Venezuela. Juan Guaido and the National Assembly have led the Venezuelan people toward a constitutional solution to the crisis.
As we have said unequivocally since 2017 and currently, we recognize the National Assembly as the only legitimate branch of government in Venezuela and support its work to restore democracy.
Last May more than 60 countries called out Venezuela's so-called elections for what they were – a sham. The elections were declared to lack legitimacy by the Organization of American States, the European Union, the UN High Commissioner for Human Rights, and the Lima Group. Since then, the OAS, the UN Security Council, the Lima Group, and the European Union have continued to uphold our collective desire to promote and defend democracy.
Today, 21 countries and the OAS have recognized Juan Guaido as interim president of Venezuela.
We are taking concrete action in the United States towards those who undermine the restoration of democracy in Venezuela, and we appreciate those in the international community, including the EU, who have done the same.
We are also taking concrete action to register our horror at the human rights abuses perpetrated by the regime, which has engaged in extrajudicial killings, torture, the holding of political prisoners, and has severely restricted free expression and the press, all in an effort to squash opposition to its illegitimate rule.
Juan Guaido is the interim president of Venezuela. This is the decision made by the Venezuelan people through their own elections and in accordance with the Venezuelan constitution.
The United States will work with his transitional government to help the people of Venezuela set their country back on a path towards democracy and respect for human rights.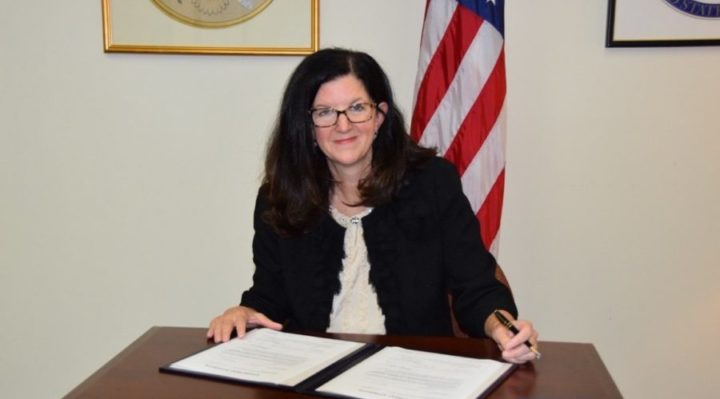 Question: The President insists that all options, including the military option, are on the table. I would like to know how would you justify before Congress and the public opinion a military intervention in Venezuela? Where is the security threat to the United States that justifies a military campaign in Venezuela?
A/S Breier: Our policy has been based and continues to be based on finding a peaceful, democratic path towards a restoration of Venezuela's constitution and democratic order. That is the entirety of our focus. When we refer to options that are on the table, we refer to all of the options that we have including our diplomatic and economic options, which you've seen us use most recently this week in the form of economic sanctions.
I think all options do remain on the table, but our path has always been for a peaceful, democratic return to democracy in Venezuela
Question: what do you think about Russian involvement, the involvement of Russia, Moscow, in this situation in Venezuela? Yesterday I've been speaking to Carlos Vecchio, new Ambassador of Venezuela in the United States, and he said he had a message from Moscow to respect the institutions of Venezuela. What do you know? To what extent Russia is involved in protection of Nicolas Maduro and in possible help by military means or some other means?
A/S Breier: I would actually refer you to the Russian government to ask them what role they are playing in protecting President Maduro and aiding a regime that has resulted in an outflow of over three million displaced persons and is in the midst of a humanitarian crisis. That would be a wonderful question to ask the government of Russia.
Question: How has Mr. Guaido revived the opposition in Venezuela?
A/S Breier: I will make a call here to ask if those on the line could mute themselves because we also hear the feedback from outside voices, so please mute your line, thank you.
In terms of President Guaido, we of course think that he has been an absolutely courageous leader of the National Assembly and now of the country of Venezuela in charting a path forward that is Venezuelan led, constitutionally based, and offers a solution to Venezuela's ongoing crisis through democratic means.
His government is offering amnesty, reconciliation, and a peaceful path forward led by Venezuelans for Venezuelans and we think he has inspired the will of the Venezuelan people as we saw on the 23rd of January with the massive outpouring of support on the streets of Venezuela.
Question: First of all, there have been constitutional experts who have said that the interim presidency is with a 30-day limit. So what happens at the end of these 30 days? And secondly, what happens if the Maduro government does not fall and the sanctions that are now being imposed end up having negative impacts on ordinary Venezuelans?
A/S Breier: I think first, President Guaido has made it very clear that he and the National Assembly will follow the constitution and follow constitutional order. So the decisions as to what happens in the 30-day period are up to them. I think that they've made very clear that they intend to call for elections but it's also very clear that elections can only happen when they may be free and fair, internationally monitored, and allow the participation of all of the voices within Venezuela.
Going forward, I'm not going to speculate on what happens one way or another in the coming days. As you have all seen, this is a very fast-moving situation. I will only emphasize that we are looking for a peaceful, democratic transition in support and very much in line with the will of the Venezuelan people.
Question: If the reports are true about the deployments of mercenaries from Moscow, how does the deployment of Russian forces, whether they're private or actually leading a military, from either the Wagner group or group or whomever that Moscow sent. We have to assume that most of them probably would have been individuals with combat experience in Chechnya or Ukraine or Syria. How does that change the calculus on the ground in terms of putting pressure on Maduro to negotiate or even offer concessions to the opposition when it appears that he has military support, the security services' support, and now he's got outside support from Russia?
A/S Breier: I've seen the same media reports as you have. I've certainly have no comment on the details of those and cannot independently verify them. But we certainly have been very clear that we expect all actors to play a constructive role in supporting the will of the Venezuelan people and supporting a peaceful transition and return to democracy in Venezuela.
Question: I understand the State Department announced earlier this week that to support Mr. Guaido, accounts that are backed by U.S. and insured by U.S. banks will be turned over to him. I wonder, would you be able to tell us a bit about whether that control has already been taken over by Mr. Guaido, and whether the State Department plans any further support financially, whether to do more asset transfers or other sanctions? I understand that they're going through the Treasury Department and the state oil company. If you could give us some details about whether any further financial support for the interim government is forthcoming.
A/S Breier: I think first of all, one of the pillars of our policy has been to ensure that the assets that rightfully belong to the Venezuelan people and in this case to President Juan Guaido and his, and the National Assembly, are protected on behalf of the Venezuelan people.
You're absolutely correct, that on the 25th of January Secretary Pompeo certified, under Section 25B of the Federal Reserve Act, that Interim President Guaido has sole authority over certain government of Venezuela and Central Bank assets in the accounts of the Federal Reserve System of New York or other federally insured banks.
You've also seen us, and I would have to refer you to the Department of Treasury for further details, but you have seen us take action on sanctions as well this week in part because we have seen a variety of schemes designed to steal billions of dollars from PdVSA, the state-owned oil company, for the personal gain of corrupt Venezuelan officials and businessmen. So many of our actions are aimed at safeguarding those assets for the Venezuelan people and we will continue to take steps to do so.
Question: what other options would you consider in case that Maduro continues to oppose calling for elections. If you could be a bit more detailed. How far the U.S. is willing to go.
A/S Breier: I will say again, our preference has always been and our policy has been based around a peaceful democratic transition. This is one that is led by the Venezuelan people for Venezuelans and we are very much supporting a peaceful resolution to this crisis.
At the same time, we have been very clear that all options remain on the table, but our hope is for a peaceful return to democracy in Venezuela. That is our focus, that is our priority, and we are working every day toward that end.
A/S Breier: Thank you very much, and thanks everyone for participating in the call. I look forward to working with all of you going forward, and again, would like to reiterate our hope that our friends in Europe join our many friends and allies in the Western Hemisphere in supporting President Juan Guaido and a peaceful constitutional return to democracy for the Venezuelan people.
Thank you so much.
Ms Kimberly Breier, Assistant Secretary, Bureau of Western Hemisphere Affairs. Kimberly Breier is the Assistant Secretary in the Bureau of Western Hemisphere Affairs. Ms. Breier is a policy expert and intelligence professional with more than 20 years of experience in foreign policy, primarily focused on Western Hemisphere affairs. Prior to her appointment as Assistant Secretary, she served as the Western Hemisphere Member of the Policy Planning Staff at the Department of State.
Ms. Breier previously was the founder and Director of the U.S.-Mexico Futures Initiative, and the Deputy Director of the Americas Program at the Center for Strategic and International Studies (CSIS). She was for 5 years Vice President of a consulting firm, leading country risk assessment teams for private clients in Mexico, Argentina, and Chile.
In addition to private sector and think tank experience, Ms. Breier served for more than a decade in the U.S. intelligence community as a political analyst and manager, primarily focused on Latin America.
From January 2005 to June 2006, Ms. Breier served at the White House in the National Security Council's Office of Western Hemisphere Affairs, first as Director for Brazil and the Southern Cone, then as Director for Mexico and Canada, and also as an interim Director for the Andean region.
Prior to government service, Ms. Breier was a senior fellow and director of the National Policy Association's North American Committee—a trilateral business and labor committee with members from the United States, Canada and Mexico.