The USA administration on Monday took the historic step of implementing Cuba sanctions.
Specifically, the administration is temporarily permitting U.S. citizens whose property was stolen by the Castro regime to pursue legal action.
From March 19 to April 17, Americans will be able to sue 205 Cuban companies that are owned and/or operated by the Cuban military, intelligence, and security services.
Penalizing the Cuban regime serves two purposes right now. It addresses the longstanding issue of uncompensated claims, and it also punishes the regime for the destabilizing role it has long played in Venezuela.
The Cuba sanctions were originally codified in 1996 under the Cuban Liberty and Democratic Solidarity Act, but since its enactment, U.S. administrations have suspended enforcement of the sanctions component of the law, known as Title III.
Full enforcement of the law would permit Americans whose property was seized without compensation by the Castro regime to bring legal action against any foreign company operating inside of Cuba.
Monday's actions constitute a partial enforcement, as legal action can only be brought against Cuban regime companies on the U.S.' Cuba Restricted List.
According to the State Department, every one of these companies is "under the control of, or acting for or on behalf of, the Cuban military, intelligence, or security services or personnel with which direct financial transactions would disproportionately benefit such services or personnel at the expense of the Cuban people or private enterprise in Cuba."
Valued at nearly $8 billion, Cuba's illegal confiscation of American property and assets is considered to be the "largest uncompensated taking of American property by a foreign government in history."
The total value of assets stolen by the regime is even higher, as those figures don't include American citizens who were Cuban nationals at the time their property was taken.
The timing of Monday's announcement should send a strong message to the regimes in Cuba and Venezuela, and to the international community working to resolve Venezuela's crisis.
Havana has played a key role in Venezuela's collapse. In exchange for oil and other resources, Cuba has provided Nicolas Maduro's regime in Caracas with a world-class police state.
Throughout Venezuela, Cuba has protected Maduro with a network of intelligence officers, political advisers, and security officials. The Cubans have shared their "best practices," which have enabled their own regime's longevity.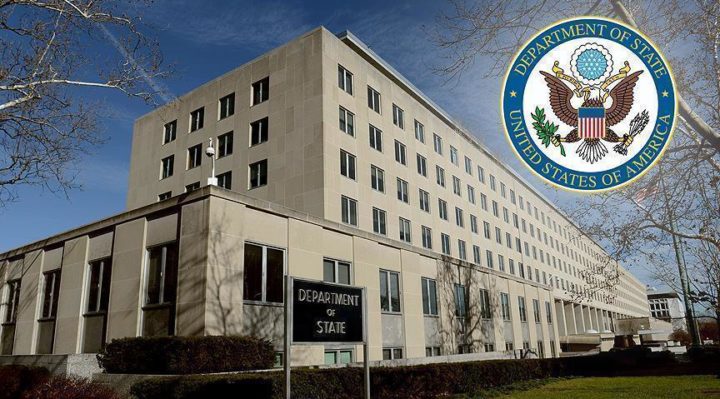 Below is a full rush transcript of a press conference by U.S. Senior Administration Official at the U.S. State Department.
U.S. Senior Administration Official: Thank you very much, Obviously we're aware that there's a lot of interest regarding the possible impact of Secretary Pompeo's historic decision announced yesterday on Title III.
As you all know, this administration has advanced a very clear policy on Cuba. We've been focusing on improving human rights, encouraging the rule of law, fostering free markets and free enterprise and promoting democracy and freedom in Cuba. And for years we have continued to see the Cuban regime deprive the Cuban people of these fundamental freedoms, including freedom of speech, the press, and assembly.
Unfortunately, even under a new President in Cuba, we've seen nothing has changed.
The February 24th so-called constitutional referendum only solidified the same authoritarian political system and reinforced the communist party's control over the island. In fact since the Libertad Act came into effect in 1996 the Cuban state's repression of its own people has persisted and worsened, despite the fact that every administration has fully suspended Title III.
Reputable NGOs report that over 2,873 short-term arrests took place in 2018 with over 405 arbitrary detentions in February of 2019 alone.
Accordingly, based on this information, our administration undertook a serious and thorough review of Title III, assessing conditions on the ground in Cuba and identifying whether a waiver would be both in the U.S. national interest as well as expedite the transition to democracy.
As we announced yesterday, based on those considerations, Secretary Pompeo has decided against fully suspending Title III at this time. Instead, he announced a suspension of Title III for 30 days with one crucial exception which is that U.S. nationals will now have the right to bring action against Cuban entities and Cuban sub-entities on the Cuba restricted list. And as you are all probably aware, the Cuba restricted list identifies entities and sub-entities under the control of Cuban military or security services, which are of course those services directly responsible for the repression of the Cuban people.
With this decision, the United States is holding the Cuban regime accountable and opening a path of redress for U.S. claimants whose property was illegally and unjustly seized by the regime. It also sends a strong signal to our international partners that we take democracy in Cuba seriously, and that we hope that they will reconsider their engagement in businesses in Cuba.
While this does not specifically allow for Title III litigation against third country investors and managers of property at this time, it is a very clear sign that we are taking our commitments to democracy in Cuba very seriously.
In addition to this action undertaken yesterday, we are also going to continue to urge the international community to press Cuba on human rights such as by demanding the regime stop harassing and detaining peaceful activists and independent journalists, release political prisoners, and of course provide for a democratic and a more prosperous future for the Cuban people.
Through all of this it's clear that the United States is continuing to ratchet up pressure on the Cuban government. In the days ahead, we will continue to monitor the impact of the suspension with an exemption and assess whether further action is necessary to the national interests of the United States and to support efforts by the Cuban people to bring about reform to their country.
Question: Could you tell us a little bit about whether you consulted with European partners on this, and sort of what consultations you have had or plan to have with the Europeans on this decision?
U.S. Senior Administration Official: Absolutely. So engagement with our European partners and with other international partners was a critical piece of the decision-making process. Obviously the determination on Title III rests on the two principles that I mentioned, that it is in the U.S. national interest and that it expedites a transition to democracy.
The question of U.S. national interest is inclusive not just of actions in Cuba but also all of our relationships internationally. We wanted to make sure that we consulted with our partners to identify what their concerns were and to include that in the process. We held a number of conversations in European and other capitals and we also brought together a group of EU countries and a few others to D.C. to discuss their concerns.
Going forward, we will continue to keep them engaged as we make additional determinations on next steps with respect to Title III.
Question: Can you tell us, as I understand it from your opening statement, this allows U.S. citizens to bring litigation? How does it affect foreign entities? Could you discuss that?
U.S. Senior Administration Official: Sure. So by limiting implementation of Title III to Cuban entities and Cuban sub-entities on the Cuba restricted list, the Secretary's action does not allow for Title III litigation against existing third country investors or managers of properties named on the Cuba restricted list at this time. But we will continue to encourage anybody doing business in Cuba to reconsider whether intentionally or not they may be trafficking in confiscated property as we will continue to monitor the impacts of this decision and determine our next steps.
Question: Could you tell us please do you think all the new sanctions for Cuba because of the situation in Venezuela? Additional sanctions for Cuba?
U.S. Senior Administration Official: The determination with respect to Title III was made based on the two principles that I mentioned, U.S. national interest as well as expediting a transition to democracy which are statutory requirements under the Libertad Act. So we did not, the decision was predicated on those principles and not based on any other considerations.
Question: Can you outline why particularly the decision was made to go with 30 days this time? In the past it's been extended for six months or 45 days.
U.S. Senior Administration Official: Sure. So as you're aware, the Secretary has the ability to suspend Title III for a period of up to six months which was the decision that historically has been made by other administrations. In this case, we believe that initially a 45-day period and now a 30-day period was the most appropriate time to allow us to assess the impacts of these new determinations.
U.S. Senior Administration Official: I really appreciate everybody's time. I know this is an issue that everyone is taking very seriously. It is, of course, a historic decision by this administration and we will continue, as I said, to monitor the impacts and to engage with our international partners to determine the way forward following the 30-day period. Thank you very much.