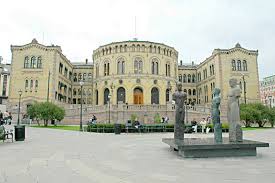 Plain packaging was the theme for World No Tobacco Day. Minister of Health and Care Services Bent Høie marked the occasion together with WHO, the Norwegian Cancer Society and representatives from United Kingdom and Australia.
– In Norway, young people are smoking less, but the last decade we have seen a dramatic growth in the use of smokeless tobacco snus. Earlier the use of snus was a way to quit smoking, but now snus has become a pathway to tobacco addiction. We have to prevent that a new generation becomes addicted to tobacco, and plain packaging is an important step towards this, says Minister of Health and Care Services Bent Høie.
WHO is calling on its Member States to prepare for plain packaging with the slogan; "Get ready for plan packaging". Australia, United Kingdom, France and Ireland have passed laws to implement plain packaging, and other countries are considering the same. The Norwegian government will present a bill to the Parliament on plain packaging in the first part of June.
– The objective of plain packaging is to prevent tobacco use among children and adolescents. I think most people support this goal. We know that young people are affected by the appearance and design of tobacco packaging, and it is time to stop this type of marketing to young people, says Høie.
Representatives from Australia and United Kingdom were present at the event, and gave a brief about their experiences with plain packaging. The tobacco industry has filed suits against several countries to stop plain packaging, but without success, most recently in United Kingdom.
– We cannot let the tobacco industry dictate our public health policy. Tobacco is legal, but it is not an ordinary product. Unlike other legal products, tobacco is harmful regardless of how people use it. Plain packaging will not affect people's freedom of choice or their access to buy tobacco products. The objective of the bill is to protect new generations against tobacco addiction, says Høie.
New research from Australia shows that plain packaging works. Fewer young people are starting to smoke cigarettes, and unlike claims from the tobacco industry, there has not been a growth in illegal import of cigarettes.