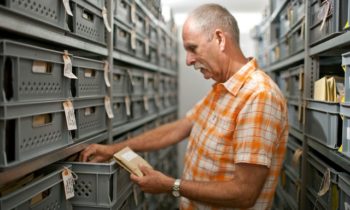 Switzerland this week sent more than 700 new plant seed specimens to the Global Plant Seed Vault in Svalbard, Norway, to mark its tenth anniversary.
The Swiss government's agriculture research centre Agroscopeexternal link was among 23 gene banks that participated in the anniversary celebrations in Norway. Like other gene banks, Agroscope collaborates with the Svalbard Global Seed Vault to preserve plant genetic diversity, according to a Swiss government press releaseexternal link.
It describes the Global Plant Seed Vault as a "Noah's Ark for plants in Norway", whose mission is to protect plant genetic heritage in the event of a loss of a local gene bank. Over a million seed varieties from all around the world are currently stored there in duplicate. The samples remain the sole property of the depositor.
Switzerland sent two crates containing 719 plant samples to Svalbard. Protected in aluminium packets, the samples contained seeds from ancient and new varieties of wheat, triticale (a hybrid of wheat and rye), oats, rye, barley and spelt. They also included two sage varieties and an Italian parsley, which are the first Swiss medicinal and aromatic plants to enrich the Svalbard store. They were cultivated and maintained for over 30 years in Bassins, in Switzerland's Vaud canton, by a local producer of aromatic and medicinal plants.
The diversity of plant genetic resources, whether natural or selected by humans, is vital for agriculture and for our diet, the press release explains. Present-day agricultural production is based on a relatively limited number of varieties which need to be enriched on a regular basis with plants that are disease-resistant, or better adapted to the climate. In particular, variety selection makes use of genetic material from gene banks that collect local varieties from farmers.
Switzerland's Agroscope Gene Bank is over a century old, and the varieties collected 120 years ago are still preserved and available, it says. Regular exchanges take place with other banks and research centres as part of variety selection programmes.
(swissinfo.ch/jc)