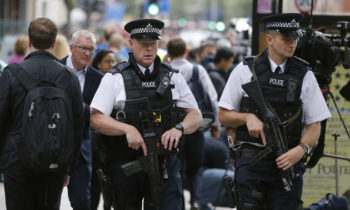 A teenager has admitted killing a retired Florida teacher and injuring five others including two Australians in a stabbing rampage near the British Museum in London
Somali-Norwegian Zakaria Bulhan, 19, pleaded guilty on Monday to manslaughter by diminished responsibility in the August 3 slaying of 64-year-old Darlene Horton.
He also pleaded guilty to five counts of wounding during a hearing at London's Central Criminal Court.
Police subdued Bulhan with a stun gun after the late-night attack in Russell Square.
The incident raised fears of terrorism but police said it was not considered a terrorist attack.
Prosecutors said Bulhan was suffering an "acute" episode of paranoid schizophrenia at the time.
Horton had been visiting London with her husband, Florida State University psychology professor Richard Wagner. They were due to fly home the next day.
Lillie Selletin, David Imber, Martin Hoenisch, Bernard Hepplewhite and Yovel Lewronski were all injured in the attack.
Imber, a Telstra employee, is understood to be the Australian man hurt. Selletin is also thought to be Australian.
Detective Inspector Tony Lynes said the incident had sparked huge fears because of concern it was linked to terrorism.
"This was quickly found not to be the case and we now know Bulhan was suffering a severe episode of mental health," Lynes said.
"He clearly poses an enormous risk to the general public and I hope he can now get the help he needs."
Read more at http://www.9news.com.au/world/2017/02/07/00/25/teen-admits-fatal-london-knife-rampage#PahoivMCJ85P2UsA.99