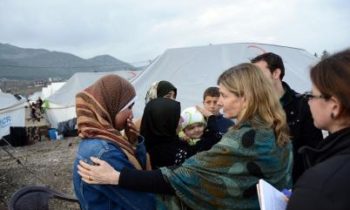 Russia will reportedly not accept refugees deported from Norway. The move by the Russian government comes as Norway seeks to tighten requirements for asylum seekers and send some refugees to Russia. Thousands of asylum-seekers have crossed from Russia into Norway since the refugee crisis began.Russian Foreign Minister Sergei Lavrov made the announcement yesterday at a press conference, reports the Nordic Page.
"The talk is about people who arrived in Russia with a purpose of either to work in Russia or to visit relatives. They had not declared their purpose of visit as transit to Norway," Lavrov said.
"This means that they had deliberately stated false data about the purpose of their visit to the Russian Federation. This is why we do not want to admit these people back to Russia."
Refugees have been entering Norway through Russia since October, and Norway has recently begun to send refugees back to Russia. Russia has agreed to take in a limited number of refugees who traveled to Norway in 2015, reports Reuters.
"Russia has always said they are not interested in taking back most of the 5,400 refugees. But we have an understanding with Russia that we can send back those who have a valid visa and residency in Russia," said Norse Foreign Minister Rune Bjaastad.
The area around Russia, Norway and Finland is frequently traversed by refugees fleeing violence in the Middle East, reports Foreign Policy. The policies of Norway and Russia will have a significant effect on the thousands of refugees who pass through the nations.
While Norway is not a member of the European Union, it is inside the Schengen passport-free travel zone. This means that migrants are free to travel elsewhere in Europe without a passport from Norway.
Norway will also reportedly deport some 4,800 additional asylum seekers who are not residents of Russia to their native countries.
Norway's right-leaning government has taken steps before to curb the flow of refugees into the country. In December 2015, Norway's immigration ministry began a push for more stringent asylum requirements to escape "violent consequences" for Norway.