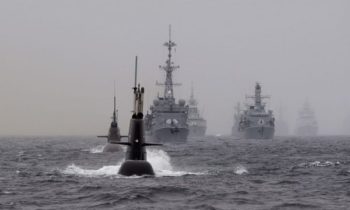 Russia has held a series of military exercise along its border with Norway and been accused of hacking politicians.
Norway has bought four submarines to add to its fleet in response to the military threat from Russia.
The Nato member will buy the submarines from German company Thyssenkrupp, Norwegianm defence minister Defence Minister Ine Eriksen Soreide told reporters in Oslo, reported Norway's NTB.
Modelled on the 212 submarines already used by the German and Italian navies, the vessels will replace six German-built "Ula class" submarine, which entered service between 1989 and 1992.
The announcement follows what Norway had described as "unpredictable" Russian behaviour behaviour in the wake of the 2014 Ukraine crisis.
The Russian military has held a series of high profile military exercises near its 125 mile (200km) Arctic Circle border with Norway.
The Norwegian Police Security Service on 3 February warned that Russian intelligence was targeting Norwegian individuals, while the Labour Party, which is the largest in parliament, was reportedly targeted by Russian hackers.
Russia has also barred two Norwegian MPs from the country, which it claimed was a response for Norway's participation in the sanctions regime against Russia.
Norway has recently moved to boost its military with the government announcing in June, 2016, it would grant an additional 165 billion kroner ($18.7 billion) to its defence budget over 20 years.
It said the funds would be used to purchase replace ageing F-16 jets with up to 52 F-35 fighters, buy five maritime surveillance aircraft and renew its submarine fleet.
(ibtimes)