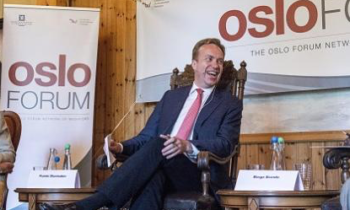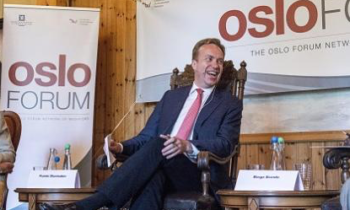 Oslo Forum 2017 opened Tuesday with participation of officials from numerous countries and international organisations, including Iran's Foreign Minister, the US former Secretary of State, Indonesia and Norway Ministers of Foreign Affairs.
Iran's Foreign Ministry Mohammad Javad Zarif who arrived in Norway's capital, Oslo, on Monday took part in Oslo Forum 2017 June 13-14.
Officials and figures from more than 100 countries are taking part in the Forum to discuss the world conflicts and the ways to realize the global peace.
Some participants, including Zarif, the US former Secretary of State John Kerry and European Union Foreign Policy chief Federica Mogherini, are expected to give lectures in the different panels of the Forum after the opening session.
Iran's Foreign Minister would also hold talks with some officials present at the Forum. He has already met with his Norwegian and Indonesian counterparts.
Oslo Forum, as an international conference hosted by the Norwegian Foreign Ministry and supported by the Swiss Center for Humanitarian Dialogue, has become an annual opportunity since 2003 to elaborate on global conflicts, particularly in Africa and Asia, and trying to find solutions for them.
The senior mediators, players and decision makers gather together in the Forum to create a place for unofficial talks for facing the challenges ahead and finding proper solutions according to the Chatham House model.
The main goals of the international gathering include developing mediation-based solutions to conflicts, creating a community of mediators and an increase in awareness and learning on issues, challenges and solutions.
The conference has a vast range of participants, from representatives of international organisations to governmental players (Foreign Ministers) and non-governmental individuals with various views, think tanks, academics, journalists, peace activists, political parties, religious leaders, political and military movements, as well as local and international non-governmental organisations.