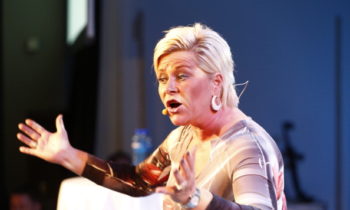 Prospects of Oslo's bid for the 2022 Winter Olympics and Paralympics going ahead could depend on the outcome of the National Congress of the Progress Party, the junior coalition partner of the Norwegian Government, this weekend. The Progress Party, a conservative-liberal group on the right of the political spectrum, are currently only the third largest in the Norwegian Parliament behind the Labour and Conservative Parties. But since October 2013 they have also been the junior partner in a governing coalition with the Conservatives, thus giving them vital importance in Government decisions such as whether to endorse the 2022 bid.Although the views of party leader Siv Jensen, also the Norwegian Finance Minister, remain unclear, there is a gathering wave of opposition within the party and it is thought the Congress will be used to force the leadership to oppose the bid.
This was something implied by leading party member Frank Willy Djuvik when he told NRK that he was "pretty sure that the Progress Party Congress will agree that this is a misuse of public funds, and that the majority will support the resolution that Progress will oppose the Olympics".
In what is considered the major stumbling block to a application which went ahead after a referendum over whether to bid was narrowly passed in Oslo last September, the Norwegian Government are yet to officially endorse the bid amid doubts over public support beyond the capital city.
The Progress Party could put pressure on their Conservative cabinet colleagues, including Prime Minister Erna Solberg, to decide against doing so.
This would certainly lead to Oslo's withdrawal, as it did to Stockholm's 2022 bid in January when the Swedish Government refused their support.
But Oslo 2022 played down this concern when outlining how it is "quite natural that there is a debate around a national convention".
"We have also noticed that there are several politicians in the Progress Party that are in favour of the Olympics", they added before insisting they are "now working to fully prepare the candidature procedure and questionnaire demanded by the International Olympic Committee (IOC)".
Oslo 2022 are hoping the Government decision will be made before the Executive Board meeting of the IOC from July 8 to 9 during which an unspecified number of candidates will be chosen to go forward to the next stage of the contest.
Oslo is locked in a five way contest with Almaty, Beijing, Kraków and Lviv in a race which has been riddled with problems for the majority of the contenders.
Following the announcement of the Candidate cities, visits will be made to each by the IOC Evaluation Commission before the winning city is revealed at the IOC Session in Kuala Lumpar, Malaysia on July 31 2015.
(inside the games)