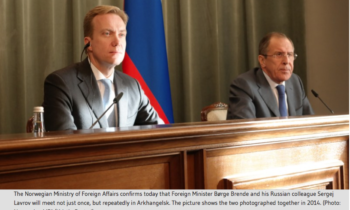 The political climate between Norway and Russia has varied between cool and frigid since 2014. Now there are signs of thaw. Tomorrow afternoon, foreign ministers Børge Brende and Sergej Lavrov meet in Arkhangelsk.
That will be the first bilateral meeting on foreign ministerial level between Norway and Russia since 2014.
The background for Brende's visit to Russia is an invitation from Lavrov to participate at the Arctic conference "The Arctic: Territory of Dialogue International Forum" in Arkhangelsk.
Brende accepted the invitation as early as a month ago. The Norwegian Ministry of Foreign affairs has, however, been sparse with comments on the first Norwegian minister-level visit to Russia since Russia's annexation of the Crimea.
– Our embassy has recommended Moscow that it organizes a bilateral meeting with Norways foreign minister Børge Brende during the conference, said Senior Advisor Andrey Leonidovitch Kolesnikov at the Russian Embassy in Oslo to High North News before the weekend. (Norwegian article)
Whether the embassy's recommendation has been successful or whether a Norwegian initiative has led to tomorrow's meeting is not known. However, the program is clear.
– The High North and cooperation in the Arctic are high priorities for Norway. Russia is an important cooperation partner and actor in the Arctic, and the Arkhangelsk conference provides a good frame for continuing the political dialogue with Russia about questions of joint interest, Foreign Minister Børge Brende says in a press statement.
Brende is meeting with Lavrov tomorrow afternoon, followed by a working dinner with both Lavrov and other Nordic foreign ministers later in the day.
Brende is also to address the Arctic conference.
– Much of the Norwegian-Russian cooperation in the North takes place on a regional level, both during the regional Barents Cooperation and between counties in Northern Norway and Northwestern Russia. They cooperate in areas such as education, research, health, nutrition, indigenous people and culture. I will therefore also take the opportunity to meet some of the Russian governors who participate in the Arctic forum in Arkhangelsk, the foreign minister says.
The Foreign Minister is giving a speech at Talking Barents, an event organized by the Barents Secretariat. He is also to meet the Governor of Arkhangelsk, igor Orlov, and the Governor of Murmansk Marina Kovtun. He will also visit an exhibition about Arctic indigenous people's food culture, a project organized by the World Council of Reindeer Herders.
High North News will attend the conference in Arkhangelsk, where more than 1,500 delegates from 14 countries have signed up.
(highnorthnews)