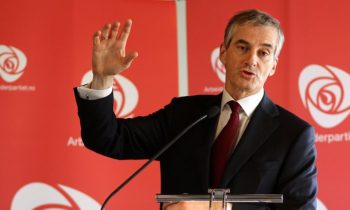 Jonas Gahr Store was Saturday elected leader of Norway's opposition Labour Party, succeeding Jens Stoltenberg who later this year takes over as head of NATO. Store, 53, was foreign minister from 2005 to 2012 under Stoltenberg, and then served as minister of health until last year's general elections when the Labour Party and its coalition partners were voted out of office. He was the sole candidate for the leadership post.Store said on the eve of the elections that there were no major political differences between him and Stoltenberg, and that he wanted to be "leader for a great team."
Stoltenberg was Labour Party leader for 12 years, and served as prime minister for more than nine.
Stoltenberg said Store had "a lot of knowledge and was good at formulating new ideas, and also had broad experience, not only from politics."
After studying political science at the Institute d'Etudes Politiques de Paris, Store worked as an aide for former Labour Party leader and prime minister Gro Harlem Brundtland.
He has also held positions at the World Health Organization and was head of the Norwegian Red Cross until he was named foreign minister.
In his farewell speech, Stoltenberg said "it was not easy to be elected Labour Party leader, and it was not easy to resign either."
Stoltenberg also touched on the twin bomb and shooting attacks that killed 77 people on July 22, 2011, saying it was important to honour the memory of the victims.