"The hatred that was displayed toward some empty bus seats really shows how much prejudices trump wisdom."
Talk about blind hatred. A Norwegian anti-immigration group uploaded a picture of a bus filled with women wearing burkas on Facebook. Or so it seemed. The group, called Fedrelandet viktigst – which translates to "Fatherland first," reported the Local – put the picture to its Facebook wall on 28 July with the caption: "What do people think about this?"
But a closer look at the picture reveals that the burka-clad women are actually just some empty bus seats. There are no travellers on the bus. Not one. It didn't stop Fedrelandet viktigst, which has around 13,000 members, who all failed to see the obvious. They made their feelings about the state of immigration in Norway known.
Among the comments, one read: "It looks really scary, should be banned. You can never know who is under there. Could be terrorists with weapons." Another user wrote that these looked like "collapsed umbrellas".
One Facebook user wrote: "Frightening times we are living in."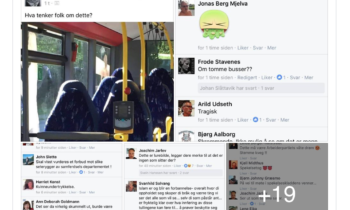 Facebook Sindre Beyer screenshotted the many reactions to the picture. He posted the photos on his personal account, asking: "What happens when a photo of some empty bus seats is posted to a disgusting Facebook group and nearly everyone thinks they see a bunch of burkas?"
His post was shared more than 1,613 times at time of writing. Fedrelandet viktigst's members were widely mocked on the website, for their ignorance and literal lack of vision. One commenter wrote: "Just when I thought that nothing from that group could surprise me, they manage to actually surprise me."
Another made light of the situation: "I think I passed the test because the first thing I saw was a group of Darth Vaders."
But one user pointed out how the whole story was as sad as it was funny: "I can definitely see the humour in it but with that being said I'm left shaking my head over the fact that people could react like that; sad."
Interviewed by Norwegian online newspaper Nettavisen, Beyer explained he had been following the group for some time: "The hatred that was displayed toward some empty bus seats really shows how much prejudices trump wisdom."
The head of the Norwegian Center Against Racism, Rune Berglund, told Nettavisen: "People see what they want to see and what they want to see are dangerous Muslims."
He added: "In a way it's an interesting test of how quickly people can find confirmations of their own delusions."
Sadly, the comment section of the Nettavisen proves him right, as several users are still sticking to the idea that the empty seats are actually women wearing burkas.
One can only hope other Fedrelandet viktigst's members will realise their mistake and learn to curb their prejudice next time they're on an Oslo bus. We wouldn't want them to confuse people with seats again.
(ibtimes)