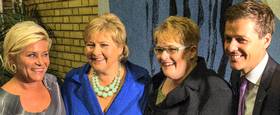 Norwegians voted in a Conservative ruling party led by Erna Solberg, ending an eight-year tenure for Prime Minister Jens Stoltenberg that was marked by economic stability and an unprecedented domestic terror attack. The Scandinavian nation's voters, who were casted their ballots at polling stations from the Arctic north to Oslo 2,000 kilometres (1,240 miles) further south, Significantly, one of the top election issues has been the proper use of Norway's oil fund, which at $750 billion (570 billion euros) is the world's largest sovereign wealth fund.
Erna Solberg, a former girl scout leader who has overcome dyslexia, the Conservatives promise to diversify the economy away from oil, privatize state firms, and reduce some of the world's highest taxes rates to give the private sector more breathing room.
Solberg, 52, will become Norway's second female prime minister, as well as its first Conservative prime minister since 1990. At least the top two cabinet posts – and possibly the top three – are likely to be filled by women.
"We will contribute to a change (of government)" Christian Democrat party leader Knut Arild Hareide said. "We've been guaranteeing that a change will take place, and we will keep that promise," he said without committing to entering cabinet.
'In accordance with Norwegian parliamentary tradition, I will seek the resignation of my government after the presentation of the national budget on October 14, when it's clear that there is a parliamentary basis for a new government,' Jens Stoltenberg told supporters in Oslo.
Solberg – nicknamed 'Iron Erna' for her tough image – will become Norway's new prime minister, as the leader of a centre-right coalition government.
Solberg thanked the voters on Monday for a historic victory in the oil-rich Nordic in a parliamentary election that yielded the best result for the conservatives in 28 years.
'The voters had the choice between 12 years of red-green government or a new government with new ideas and new solutions,' Solberg said at her party's election night party.