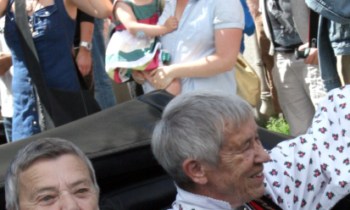 The first lesbian MP in Norway has passed away at the age of 90.
Wenche Lowzow was a pioneer in gay rights in the country and has passed away after complications that stemmed from long term illness.
Born in 1926, Lowzow was the first member of parliament to come out as gay.
She represented Oslo Høyre and served in the Norwegian parliament between the period of 1977 and 1985. She then went on to work as both a teacher and a principal in the Oslo school, but has fought for gay rights since she came out as a lesbian during a debate in 1979.
Lowzow declared her civil partnership with the writer and activist Karen Christine Friele in 1993.
Friele, who is famous for being the first Norwegian to publicly acknowledge and advocate for her sexuality in 1965, said: "Of course it's painful. She will be missed. I need some days to gather myself."
But Lowzow's wife prepared well and told Aftenposten that she had a proper goodbye with her spouse with a lipstick kiss on each cheek before Lowzow was put in a coffin and taken away.
Lowzow passed away in a care home at Usteheimen in Geilo, Norway after a long time of suffering with cancer and dementia.
"She was taken good care of there", says Friele. Lowzow tripped whilst she was outdoors just two weeks ago and it all went downhill from there. "At the time she was doing well. but all of a sudden things naturally went downwards," Friele added.
Lowzow is to be buried in Oslo.
Prime Minister Erna Holberg expressed his sadness at the loss of Wenche. "She worked with a lot of important cases for Høyre, but will be most remembered for being the first open gay and lesbian member of parliament. Her open-ness has been of great importance for our society."
Per-Kristian Foss who worked with Lowzow representing Høyre in parliament from 1981 to 1985 said: "I knew Wenche well before she opened up about being gay. She was a brave woman."
Foss himself came out as gay in year 2000. He said Lowzow was tough until the very end. "She was so taken with the "gay issue" that it overlapped the party politics."
Former Høyre politician Erling Lae said: "Wenche dared when no one else dared, and helped more and meant more to many than people could understand."
"Wenche Lowzow is a symbol of the newer history. She was in the front line in Høyre for those who were terrified by radical youth."