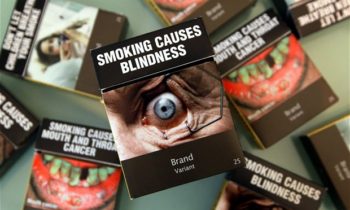 The Norwegian government said on Tuesday it would present a bill to parliament in the first part of June proposing the introduction of plain packaging of tobacco products in the Nordic country.
Norway's minister of health and care services, Bent Hoie, made the announcement at an event marking the World No Tobacco Day organized by the health ministry, the World Health Organization (WHO), and the Norwegian Cancer Society.
He told Xinhua he expected to receive a positive response from a majority in the parliament before Christmas and if passed, the bill would be implemented in 2017.
"We are moving slowly towards the smoke-free generation. Statistics from last year show that only four percent of Norwegian young people between the age of 16 and 24 smoked daily and only 30 percent occasionally," Hoie said in the announcement.
"However, the consumption of smokeless tobacco snus has increased a lot in Norway and 30 percent of men and 18 percent of women use snus, which is proven to be as dangerous as smoking to human fetuses, according to a new Swedish research," he said.
The plain packaging would be introduced as a way to reduce smoking. The packaging would be dark green, proven to be people's least favorite color, Hoie said, and there will be no logos or designs.
Anne Lise Ryel, secretary general of the Norwegian Cancer Society, said the tobacco industry used consumers' emotions to advertize their products and plain packaging would remove the power of this advertizing.
"Plain packaging is one of the most important steps towards a tobacco-free society. There are six million people that die annually of use of this unnecessary product," Ryel told the international gathering, which included representatives from Australia and Britain.
Australia, Britain, France and Ireland have passed laws to implement plain packaging and many other countries are considering the same.
Norway is the first Scandinavian country that openly supported Australia as the first country in the world to implement plain packaging in 2012.
Kylie Lindorff, manager of tobacco control policy at Cancer Council Victoria in Australia, said tens of thousands of Australian lives had been saved in the country thanks to the plain packaging measure, and reports show fewer young people starting to smoke.
"Plain packaging has contributed in three ways: it helped to reduce the appeal of tobacco products, increased effectiveness of health warnings and reduced the ability of the tobacco packs to mislead the consumers," Lindorff said.
She noted that the standardized packaging had not led to the negative predictions of the tobacco industry.
"Plain packaging did not result in small businesses losing their customers, price drop, nor increased tobacco use," Lindorff said, expressing the hope other Scandinavian countries would follow the Norwegian example.
(Xinhua)