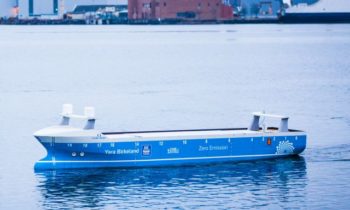 Norway's third autonomous shipping test-bed has been opened on the Oslofjord in Horten, near Kongsberg Maritime's local facility.
The new site, along with the original test-bed in Trondheim, will be an important resource as Kongsber and partner Yara develop the Yara Birkeland – the all-electric vessel due to be launched due to be delivered next year which is intended to eventually assume full autonomy.
"The location of the new test-bed will support a number of ground-breaking technology projects," said Egil Haugsdal, president, Kongsberg Maritime. "The move towards greater autonomy at sea has the potential to transform maritime operations and while the technology has now been proven, we look towards the regulations. Establishment of these test-beds are an important step."
Kongsberg reported that its use of the fjord at Horten for autonomous vessel testing this year was important in enabvling the Norwegian Maritime Administration and Norwegian Coastal Administration to designate the test bed. In August, Kongsberg and the Norwegian defence research establishment FFI demonstrated high-speed autonomous obstacle avoidance using the ODIN unmanned surface vehicle.
(N.Sethurupan)