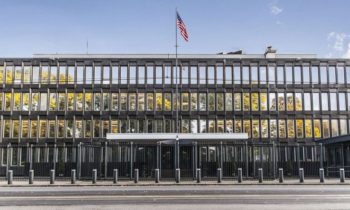 The Embassy of the United States of America announces the sale of the former U.S. Embassy property at Henrik Ibsens gate 48 to Fredensborg AS marking a new chapter in the history of this historic 58 year old building.
Renowned Finnish-American architect Eero Saarinen designed the triangular-shaped building which came to symbolize the strong and deep relationship between Norway and the United States in the decades after the Embassy opened in June 1959.
"We are excited for Fredensborg AS to be the new owner. They appreciate the legacy of the former Embassy," said Chargé d'Affaires Jim DeHart.
"We also want to thank the Cultural Heritage Office for working with us on a draft protection order that both protects key elements of the building and provides flexibility for Fredensborg to shape the property for the 21st century," stated Chargé DeHart.
(U.S. Embassy Oslo, N.Sethurupan)