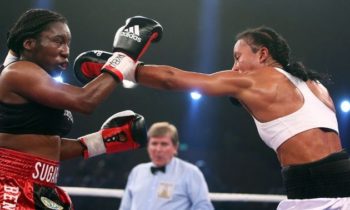 Professional boxers can step back into the ring in Norway after a three-decade ban on the sport was this week repealed in a vote in Parliament in Oslo. The governing coalition of conservatives and right-wing populists pushed the policy through with the support of the social liberals in a 54-48 vote. Professional boxing had been illegal since January 1, 1982.Norwegian professional boxer Cecilia Braekhus had been unable to fight in her own country under the old "knockout law," which banned any sport where victory or points could be scored by knockout.
The Colombian-born welterweight, whose ring nickname is "First Lady," holds welterweight world titles from the WBC, WBA and WBO sanctioning bodies.
"I believe this might be one of the greatest moments of my life," Braekhus told broadcaster NRK after the legislation passed.
"I am very glad that we've achieved this together. It's hard to describe all the emotions. In any case, I'm not a criminal in Norway any more."
The first newly legal professional match in Norway could be held as soon as February.
Under the ban, professional boxers could be punished by three months in prison, the combat sports news website Sherdog.com reported.
(timeslive)