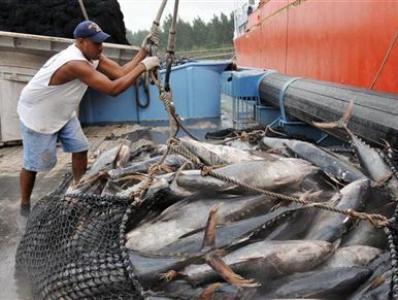 South Africa's law enforcement efforts at sea, particularly as far as illegal fishing is concerned, have been boosted by Norway which is funding a fisheries law enforcement academy.
The academy is based at the Nelson Mandela Metropolitan University (NMMU) in Port Elizabeth and will benefit from to the tune of R50 million over a five year period. The agreement was signed late last month by Norwegian ambassador Trine Skymoen and NMMU acting vice chancellor Dr Sibongile Muthwa during a Port Elizabeth conference on Operation Phakisa, government's plan to tap into the blue economy and make it a bigger contributor to GDP as well as providing work.
Fishing crimes, which include illegal and unregulated fishing, as well as illegal harvesting of ocean produce and the trafficking of people, drugs and arms are some of the issues that will be tackled by the fisheries law enforcement academy, also known as FishFORCE.
The FishFORCE agreement is part of a broader partnership between Norway and South Africa developed in line with Operation Phakisa and the blue economy.
"Fisheries crime and the illegal harvesting, processing and trading of fish and seafood globally it is, in effect, a parallel economic system undermining sustainable economic growth," Professor Hennie van As, director of NMMU's Centre for Law in Action, is reported as saying at the official signing ceremony.
He also said FishFORCE's main purpose was to combat sea fisheries crime and related criminal activities.
"We will be training fisheries control officers, police and prosecutors along the South African and east African coastlines as well as Namibia and plan to extend the training round the Indian Ocean rim to include countries like Indonesia.
Skymoen said sub-Saharan Africa was losing more than a billion US dollars to illegal and unregulated fishing. Illegal fisheries vessels, among others, under report catches and transfer catches from one vessel to another to escape official sanction as well as change flags to keep one step ahead of the authorities.