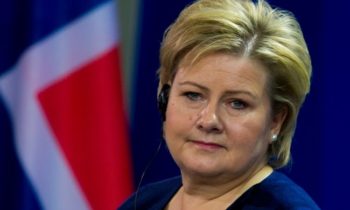 Norway announced plans Friday for its biggest military upgrade effort since the end of the Cold War, to bolster its defenses against an "increasingly unpredictable" Russia.
The Scandinavian country, a NATO member, plans new fighter jets and submarines to boost its ability to protect itself from its vast neighbor, with which it shares an Arctic border.
Over 20 years Norway would boost its defense budget by 165 billion kroner (17.5 billion euros at current exchange rate), according to details of a military programming law presented by the government.
"Unfortunately the geopolitical circumstances have changed significantly, in a bad way, in recent years," Prime Minister Erna Solberg told a press conference in Oslo.
"We have an increasingly unpredictable neighbor to the east which is strengthening its military capacity, and showing willingness to use military force as a political tool," she added.
The military programming law aims to upgrade the army both by efforts on maintaining existing resources and buying new equipment.
It foresees the purchase of 52 F-35 fighter jets and four submarines, as well as new naval surveillance planes to replace six ageing P-3 Orion aircraft.
The extra expenditure will bring Norway's military budget up towards the 2.0 percent of GDP goal fixed by NATO, while not reaching it.
Solberg said the country's current military might "is not adapted to the geopolitical situation," describing a "historic defense effort, the biggest since the end of the Cold War."
But it is less than the 180 billion kroner sought last year by the armed forces chief Haakon Bruun-Hanssen.
Before the military plans can be implemented the right-wing government has to get its proposals adopted in parliament where it is in a minority, and could therefore have to make amendments.
(AFP)