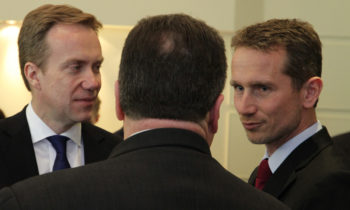 Minister of Foreign Affairs Børge Brende was taking part in the launch of the Nordic Microfinance Initiative (NMI) yesterday. This is a new Nordic cooperation venture involving private Norwegian investors and two state investment funds, the Norwegian Investment Fund for Developing Countries (Norfund) and Denmark's Investment Fund for Developing Countries (IFU). The first capital injection is around NOK 715 million.
'By giving poor people access to the services they need to save, borrow and invest, the Nordic Microfinance Initiative will play a part in achieving the first and most ambitious of the sustainable development goals – to end poverty. Business development is essential for economic growth in developing countries, and it is one of the main priorities of Norwegian development policy. I am pleased that the new fund is now being organised in cooperation between the Nordic countries, and look forward to following its progress,' said Mr Brende.
The NMI, which was previously called the Norwegian Microfinance Initiative, will invest on a commercial and socially sustainable basis in medium-sized financial institutions in East Africa and South and South-East Asia that have a potential for further growth. It has already invested in the Kenyan Women's Financial Trust, which offers financial services to 800 000 women in all parts of Kenya.
'Microfinance is a vital development policy instrument. It gives poor people the opportunity to borrow money that they can invest in their own future in order to improve their living conditions. I am very pleased that we have established this public-private partnership with both Norfund and IFU on board, so that we have a stronger capital base for this important work,' said the Danish Minister for Foreign Affairs Kristian Jensen.
'Since 2008, the Norwegian Microfinance Initiative has been providing funding to create employment and promote economic and social sustainability in developing countries. With IFU on the team, we can expand NMI into a leading Nordic platform for microfinance, develop microfinance institutions and provide financial services for even larger numbers of people. And we can give priority to women, who are an important target group in development work,' said Managing Director Kjell Roland in Norfund.
The private Nordic investors in NMI are providing 45 % of the total capital of NOK 715 million, while the remaining 55 % comes from Norfund and IFU. Ferd, one of Norway's largest private companies, is one of the private investors.
'The background for our initiative in 2007 was that Norway was in a good position to reduce poverty by giving people access to financial services. We had strong institutions like Norfund and Norad, private risk capital investors, a common desire to make a difference, and plenty of drive. We established the Norwegian Microfinance Initiative, and are now reaching out to almost five million people by means of direct investments and far more through investment in funds. We are looking forward to expanding this work together with IFU,' said the Chairman of Ferd, Johan H. Andresen.
'I am very pleased that we have developed this strong public-private Nordic partnership in microfinance. We view this as the first step toward an even broader platform with the participation of private investors from more Nordic countries. We will now be able to intensify our efforts to offer financial services to poor people,' said CEO Tommy Thomsen of IFU.