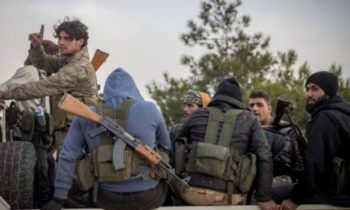 The Norwegian-trained Syrian militia called the Revolutionary Command Army (MaT) allegedly meant to help quell ISIL are waging a war against the Syrian leadership and pro-government forces, a Norwegian daily reported.
According to Klassekampen, the rebel group is now openly fighting for a regime change in Syria.
In May 2016, it was announced that Norwegian soldiers were to be dispatched to Syria's neighbor country Jordan to provide "training, counseling and operational support" to Syrian paramilitary groups fighting ISIL as part of the US-led Operation Inherent Resolve.
In June 2016, the Norwegian parliament also green-lit similar missions in Syria itself.
While Norway's Syria contribution was formally concluded in March this year, as the mandate formally expired, the exact extent and nature of Norway's involvement was largely kept secret. MaT commander Muhannad al-Talla confirmed to Klassekampen that his group was trained by Norwegians in al-Tanf in Southeastern Syria, where the US also has a base.
While both Prime Minister Erna Solberg and then-Defense Minister Ine Eriksen Søreide emphasized the mandate was to fight ISIL, ensuring that they "won't endanger the peace process," al-Talla claimed that his Western allies never concealed that his soldiers were to fight both terrorists and the Syrian government.
"From the very beginning, I've been completely aware that I'm fighting "the ISIL" and the al-Assad forces. (ISIL) is not gone but is clearly weakened. Now the priority is the fight Assad," al-Talla admitted to Klassekampen.
The al-Tanf Base is a strategic outpost along the main route between Damascus and Baghdad. There, the US has created a so-called 55-square-kilometer safety zone secured by US soldiers with the help of al-Talla's units.
Within the zone, Syrian army troops have been bombed at least two times by US combat aircraft. At the same time, several rebel groups, including MaT took part in an offensive against government forces after ISIL's withdrawal from Eastern Syria.
The Free Syrian Army (FSA) Spokesman and Counselor Ibrahim al-Idlibi confirmed to Klassekampen that Norway-trained "militia" took part in the struggle against the government forces, such as the operation "The Country is Ours" carried out in May and June 2017.
While the Syrian government has managed to reclaim most of the country's territory from ISIL and various rebel groups, MaT leader Muhannad al-Talla is by his own admission not ready to lay down arms.
"It is true that the current balance of power favors Assad. But we will never let him have peace. Even if he wins the war, we will continue to make his life sad for him," al-Talla pledged.
Both Muhannad al-Talla and the Norwegian Ministry of Defense denied that Norwegians ever participated in the fight against the Syrian government and its allies. Norway formally ceased its mission in Syria, with the Defense Ministry deciding to focus on Iraq.